It's never an easy decision, isn't it? Just like it is never all that simple to stop smoking, to start exercising regularly or to implement any other major lifestyle change. If you own a motorcycle, regardless of its present condition, there are high chances that once it made a vital part of your identity – it made you feel adventurous, free and above all – different. Fast forward and now it just sadly sits in your garage halfway between old vacuum cleaners and boxes with god-knows-what's-inside-them.
The Impact of Time
After your loving two-wheeler had survived a couple or maybe a few dozens of heavy rains outside, several hail storms or involvements in minor traffic accidents, you will ultimately be faced with a genuine Shakespearean dilemma – "To sell or not to sell?", that is the real question! No matter whether the core reasons behind your vacillation are – lifestyle changes, financial difficulties or simply the lack of time for cruising around the town – hesitation is at this moment your worst enemy. The longer you keep your motorcycle storage, the larger the costs of maintenance will get and it will get progressively harder to find the buyer that'll offer you the money you invested in it. Read on and find what are the best steps to be taken at this moment!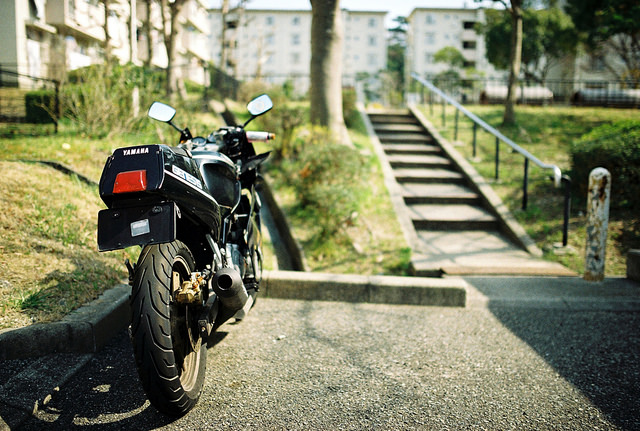 What to do After the Decision has been Made
So, you have made up your mind – the time has come to sell your bike, for one reason or another. But what is the next step? Who to call, where to announce it? You now have plenty of options, but not all of them are equally fruitful nor time-consuming. Some people get anxious when faced with this kind of multiple choice situation and succumb to the pressure of simply leaving their motorcycle garaged. Don't let it get you down, here are the possible solutions!
First of all and I can't overstate this – take care of the exterior of the bike! Do you know that saying: "Don't judge a book by its cover"? Completely ignore it in this case – humans rely predominantly on sight and their judgement and first impression will be based around this. Well-kept exterior will help you sell your bike quickly and for better price. Also, if it's possible, please remove your personal stuff – stickers, numbers and other custom graphics. What you should also consider is selling your upgrades separately – just like you wanted to personalize your bike your way, potential buyer will have his or her preferences, so the price of your upgrades doesn't necessarily automatically raise the value of the bike proportionally. Don't omit to take care of the light scratches, to replace broken plastic parts or torn seat corners. Besides that, you should clean, wash, wax and shine it and have it checked by a mechanic. Don't forget to gather all necessary documentation!
Are you Ready for a Sales Talk?!
OK, having this handled, you are ready to negotiate a sale! You can do it the old-fashioned way – print out a poster with basic information about your ride, provide a phone number and maybe include a photo or two and then hang it on a nearby lamppost. The problem is this is the least likely way to sell your bike and be satisfied with it. As with the fliers or ads in local newspaper, it's likely that you are wasting your time and money. There are several reasons, but the main ones are – people like to buy vehicles from familiar people, because they trust them; the second one is that you are targeting a specific niche, motorcycle aficionados, who are ready to take time and money to repair or remodel two-wheeler that they purchased.
You have to know where to look
That's why you should hit the internet! Again, many people make mistake and go straight to sites like eBay, Craiglist or Kijiji, where usually many trade proposals await them, but not so many offers including hard currency. Even if they find potential buyers shipping costs can be more than discouraging. Luckily, the internet is vast and you should check forums specialized in motorcycle trading and companies that will pay you good money and tow away your bike for free! Former solution is good but time-consuming, and you have to be prepared to put a lot of energy into bargain and negotiating with multiple parties. Latter one is great, but not many people know about it – today you have companies that are very easy to contact (online or over the phone) that will offer you services of motorcycle removal nationwide. They even purchase wrecked motorcycles and arrange vehicle removal service at no extra cost! As you can see this is the completely hassle free way to sell your damaged motorcycle!
Solution No One Likes to Mention
Last but least, something that all of us want to avoid – junkyard scenario. You should opt for this solution only if the condition of your motorcycle is really bad. Junkyards have a fixed amount for each kilogram and will pay you according to the weight of the motorcycle. Hopefully, you won't find yourself in this kind of situation.
We hope that this short introductory article will help you in deciding what the best thing to do is!