Known for the ability to easily roar on all kind of tough terrain, the Hilux is a series of compact pickup trucks that are produced and marketed by Japanese manufacturer, Toyota. The Hilux has been a perfect vehicle for those who prefer a powerful workhorse with them in the market. The brand has built it over generations of constant development and testing to truly make it a reliable, comfortable, and durable transport. Well, to understand this legend in detail let's delve into its history.
First Generation (1968-1972)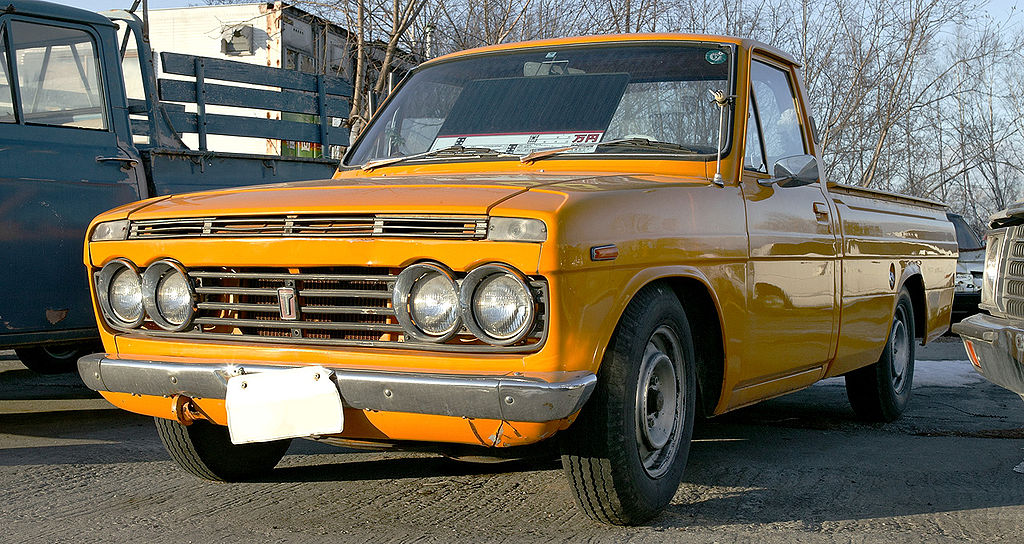 1969
Born in 1968 as R10 in short wheelbase and additional grille above quad headlight.
Equipped with 1.5-litre engine generating 77 PS of power
1969
A long-wheel base version added to the range while the short-wheelbase version also continued in production.
1971
The 1.5-litre engine was upgraded to a 1.6-litre inline-four engine with claimed top speed of 81 mph.
The engine was built in Philippines as 12R-M.
Second Generation (1972-1978)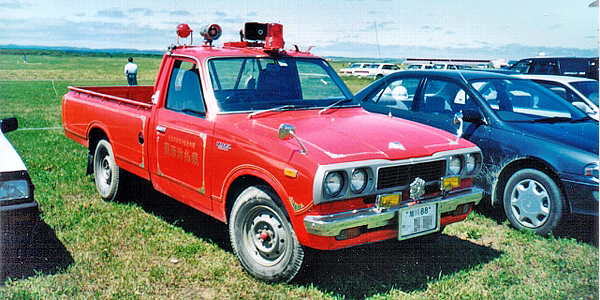 1972
1973 model year Hilux was introduced as RN20 with comfortable interior and exterior updates like single full-width grille.
1975
Essentially redesigned to become larger with increased standard equipment.
Third Generation (1978-1983)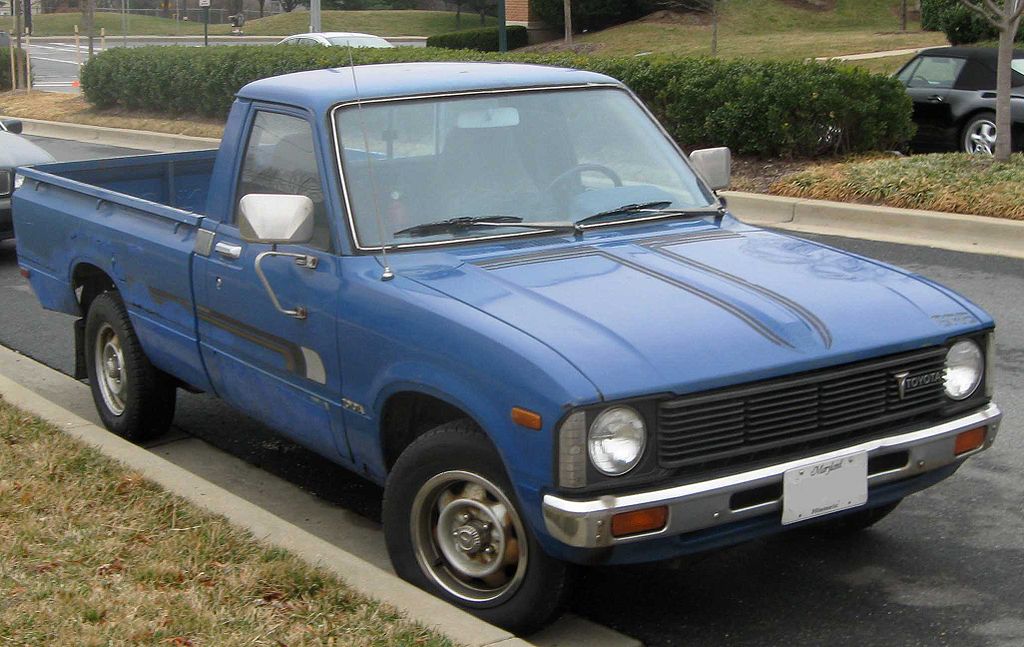 1978
The redesigned Hilux was introduced in this year wherein a single round headlights in grille with four sections of six horizontal bars was seen.
1979
4WD variants of it were introduced in January 1979.
The L series diesel engine were offered on 2WD variants from September of this year.
1981
Agreement to build SUV based on Hilux between Toyota and Winnebago Industries was signed. Trekker, Wolverine, and Trailblaze were designed which took many hints from Hilux.
Fourth Generation (1983-1988)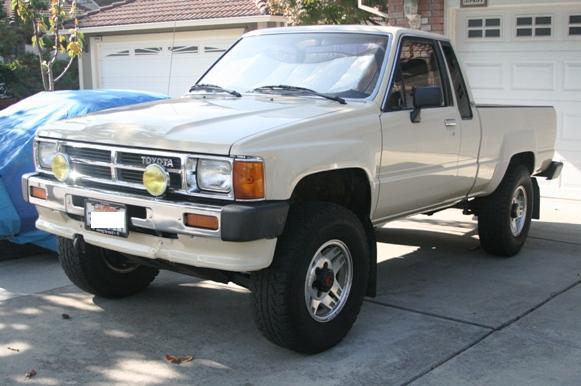 1983
A new Hilux, YN58 went under production in August 1983. Now an XtraCab version (double cabin, two door and four seats) and DoubleCab version (four door and five seats) are available.
1984
This year saw the introduction of fuel injected 22R-E and two diesel engines, the 2L and turbocharged 2L-T.
1988
A V6 engine was introduced along with many technological improvements.
Hilux-based 4Runner made its entry to many markets.
In late 1988, Toyota introduced new generation of Hilux in most of the markets with its production centered at South Africa.
Fifth Generation (1988 – 1997)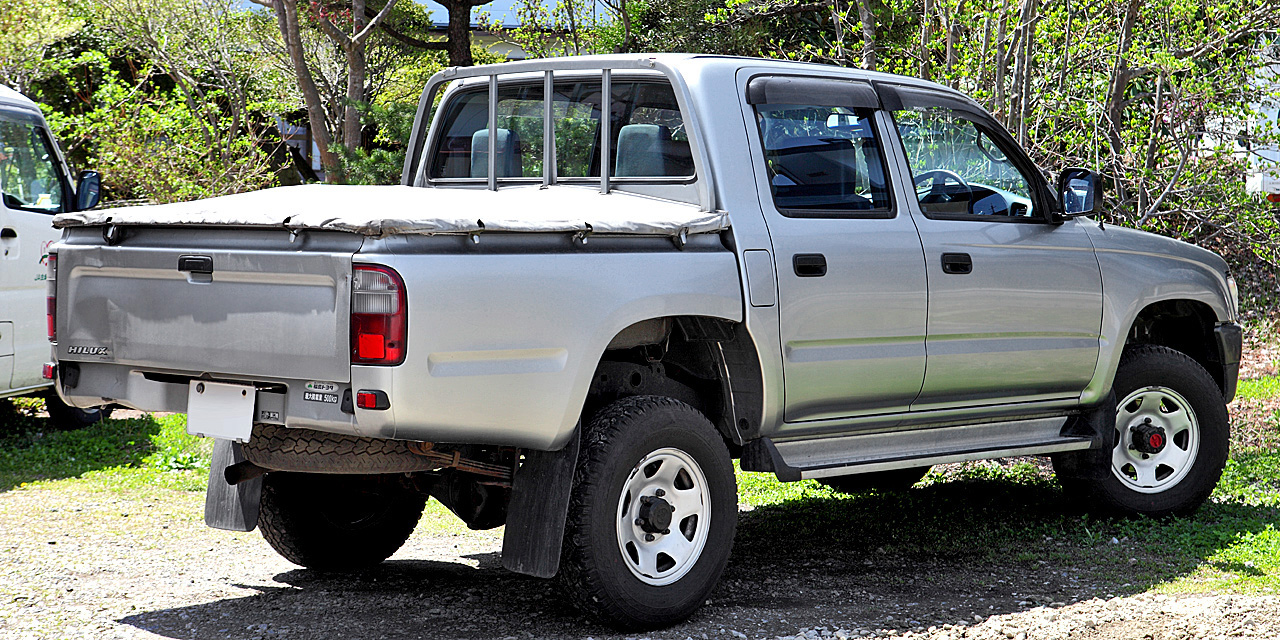 1988
The next redesign in this year included a longer wheel-base option, 3099 mm in place of 2616 mm.
The V6 Xtracab SR5 earned MotorTrend magazine's Truck of the Year award.
A single horizontal grille and molded bumper was seen here.
1991
Hilux received a minor facelift which included minor grille change and new Toyota emblem that has been recently adopted.
Toyota discontinued Hilux in United States.
Sixth Generation (1997 -2005)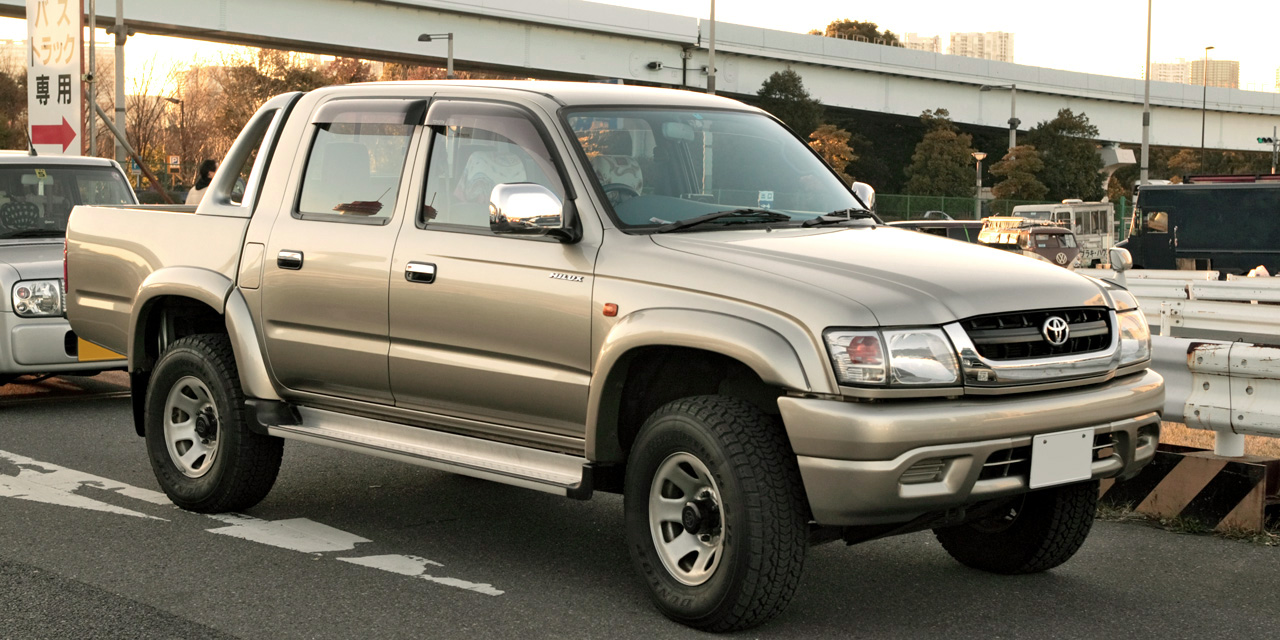 1997
The wheelbase of Hilux again grew to 2850 mm and the length also increased considerably.
More rounded lines, sculpted front guards, and reverse sloping front and separate grille caught attention there.
1998
Mid-size SUV variant of Hilux, Hilux Sport Rider was introduced for few selected markets.
2002
By now Hilux was completely manufactured in Thailand.
Seventh Generation (2005- 2015)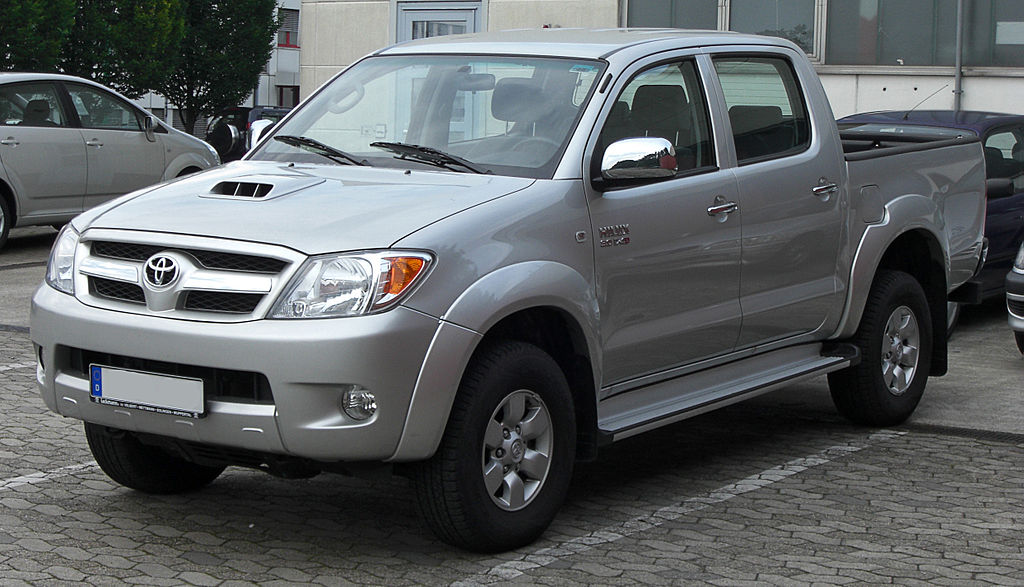 2005
Tacoma, the 7th generation Hilux was unveiled at Argentina. Tacoma came with 4.0 L V6 engine propelling 236 hp and 361 Nm.
2008
A right hand drive facelifted model was introduced in Philippines in October 2008.
2011
Toyota announced an upgrade for Hilux which included styling changes on both front and rear along with new turbo diesel engine producing 142 hp and 343 Nm. This update was launched in Thailand.
Eight Generation (2015- present)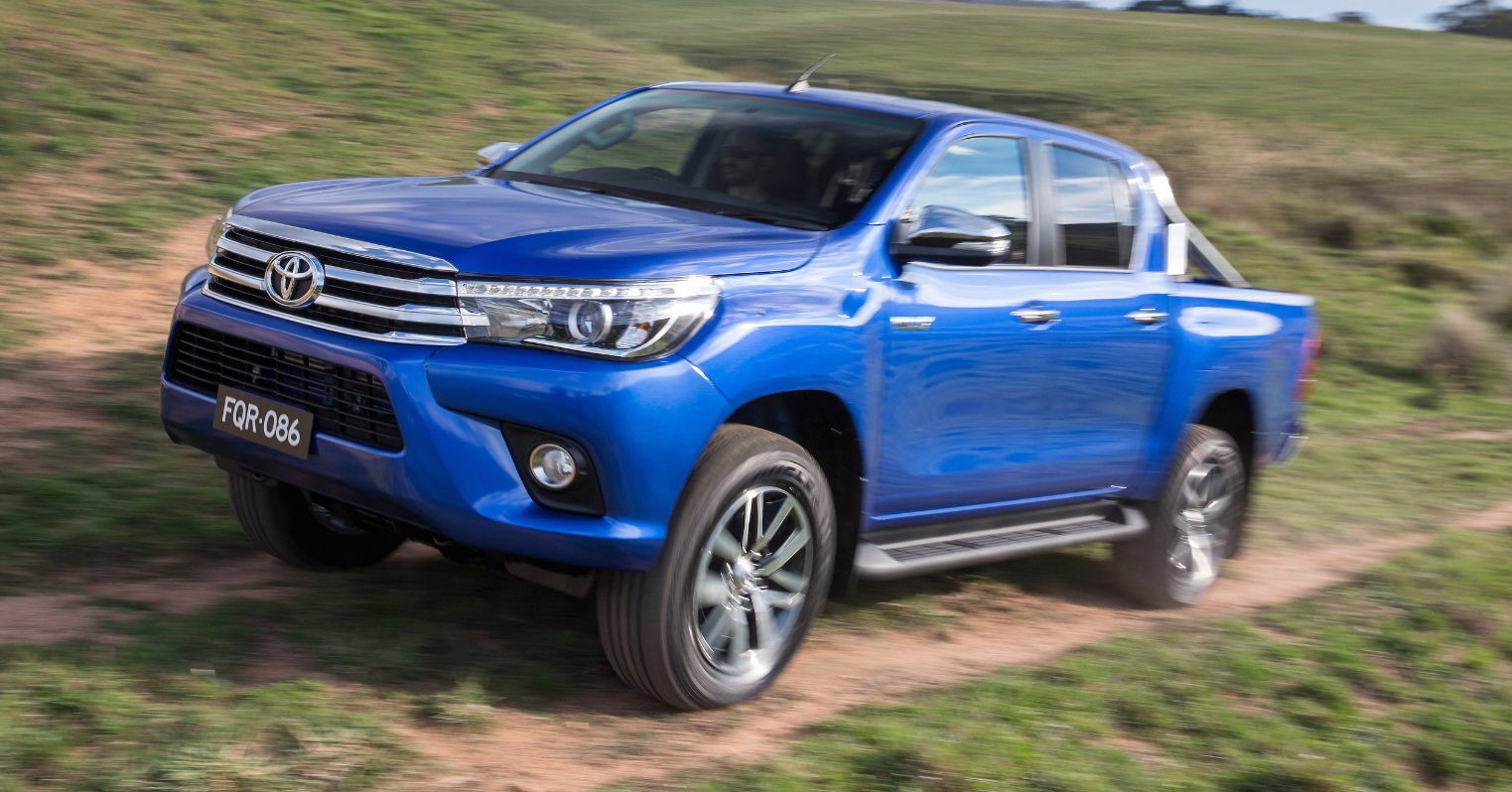 The eight generation Hilux or Toyota Hilux 2016 officially debuted on 21 May 2015 in Bangkok, Thailand, Sydney, and Australia.
This time it had "Keen Look" design language with slim projector headlights and LED DRL.
The interiors of new Toyota Hilux are improvised and with this generation, Toyota's first autonomous emergency braking was featured.
The following engines are offered in this generation-
A 2.4 L diesel engine producing 150 hp and 343 N.
A 2.7 L petrol engine producing 160 hp and 246 Nm.
A 2.8 L diesel engine generating 177 hp and 420 to 450 Nm.
All these engines are mated with either 6-speed manual or automatic transmission.
From Toyota Hilux 1968 to Toyota Hilux 2015, the model went through many styling and performance, marking an incredible evolution. Thus, the journey remain long and tough too, but the brand easily managed to maintain exceptional reputation of Hilux through continuous development, making it a really sturdy, useful, and trendy with time. Initially used by farmers and craftsmen, now is a choice of every entrepreneur because it has earned the position of world's bestselling pickup as Toyota Hilux 2015.