Your business has just wrapped up a successful busy season or reached an important benchmark, and you want to reward your staff. You want to show your employees that you appreciate their hard work, but you also want to do something that will improve morale, engagement, and communication. Particularly after a stressful push toward new success, you probably want to let everyone sit back, let loose, and let some built-up tensions cool down.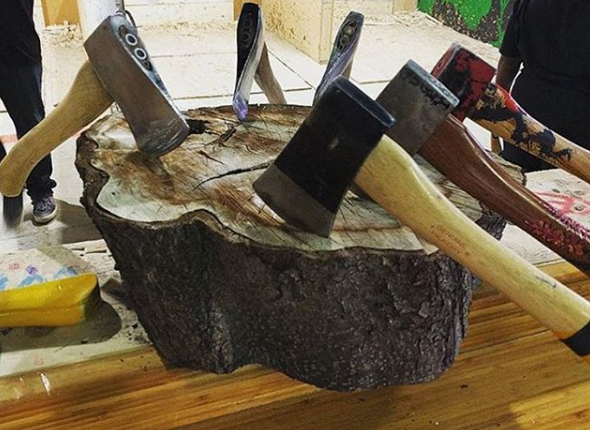 When you're looking for new Toronto team building ideas, try to find something that will engage people. Axe throwing venues have been attracting everyone from bank firms to local restaurants for their corporate team building activities in Toronto. Venues like the Backyard Axe Throwing League (BATL) strike the balance between fun, relaxation, and competition that many look for in office outings. Toronto axe throwing leagues have been booming over the last ten years, as their popularity has taken them literally from people's backyards into repurposed warehouses that can host office parties, birthdays, bachelor and bachelorette parties, and their expanding league nights. Axe throwing is Canada's forgotten sport, but it's finally getting the renaissance it deserves. Thanks to venues opening across the city, when you want to learn the art of the axe, Toronto is the place to be.
No one's the boss: One of the most important aspects of successful Toronto corporate team building events is making sure that everyone can relax. That means no one's the boss, and it's a good reason to avoid team-based sports when you're looking to do something active. Teams have captains, and it's much too easy to replicate the office hierarchy. Axe throwing is an individual support, and the round robin structure used by BATL means that everyone gets a chance to face off against each other.
Improves engagement:You should always be looking for ways to engage and re-engage employees in your business. They shouldn't just be there for a pay cheque; they should be there because they feel like they're building something with their colleagues. Every business, whether you're a local bar or a software development company, should be fostering this mentality.
Company values: When you evaluate your own company's values, do you rank a competitive spirit just as highly as camaraderie? Sharing a fun experience will bring your staff closer together, but great corporate team building activities in Toronto also improve relationships in a way that's productive for work. Axe throwing is all about bringing people closer together through competition. It's an inherent part of the game that your staff will quickly pick up on. If you've found that competitive events in the past have gotten too serious, axe throwing in Toronto may be the cure. It's an event designed for people of all skill levels, ages, and athletic abilities. Team building activities are your chance to re-engage and re-energize your staff, not to mention reward them. Book an axe throwing event for your next outing and give workplace morale a fuel injection.