Chutney (or 'chatni' in Hindu) is a firm favourite of Indian cuisine, and has a long culinary heritage in the country. Originally a relish made from fresh fruits and spices, chutneys began being exported during the colonial era by British Commonwealth officers. Before long, the concept had spread as far and wide as South Africa and the Caribbean, leading to a variety of different flavour combinations.
But thebasic premise still remains, and in Britain the cooked variety of chutney is incredibly popular. These versions are usually made with fruit such as mangoes, apples or pears, along with onions, raisins, vinegar, brown sugar and spices.
In India you will find a little more variety, perhaps because chutney continues to be served at almost every mealtime. They can be used as dips and as sauces for hot meat dishes, with recipes ranging from cooked or fresh, sweet or spicy, and soft or crunchy. They can be made with fruits or vegetables, or indeed a combination of both; while additional flavourings such as ginger, garlic, turmeric, cinnamon, chilli, lemon, tomato or coconut can also be added.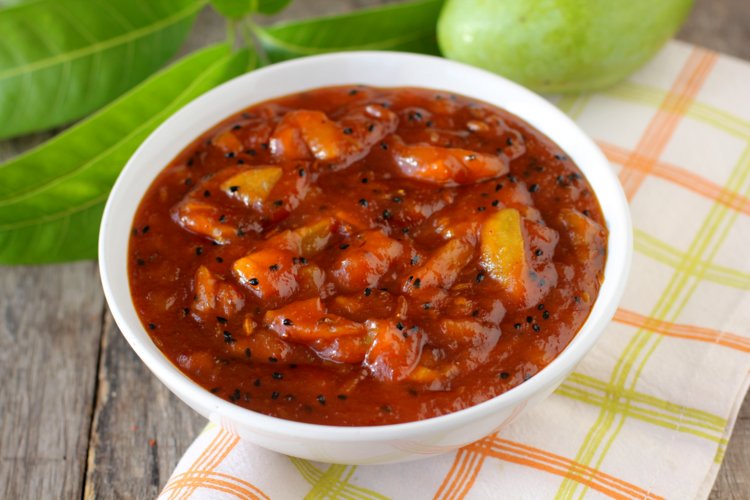 With such variety at your fingertips, it can help to be aware of the core chutney recipes used in traditional Indian cooking.
Mango Chutney
Certainly the most popular chutney flavour in Britain, this sweet chutney is made by simmering fresh mangoes with sweet onions, garlic, brown sugar, roasted and ground cumin and coriander seeds, cardamom pods, ground turmeric, fresh ginger and vinegar. It is the perfect match to an assortment of Indian dishes, adding a cooling, fruity taste.
Tamarind Chutney
The fruit of the tamarind pod is soaked in boiling water, before being mashed to a pulp and strained. Sugar is then added, along with seasoning and spices such as ginger, ground cumin seeds and red chilli powder. The finished result is a sticky, sweet and sour dip that's perfect with appetizers or drizzled over rice.
Tomato Chutney
One of the most popular chutneys in Indian cooking. The trick is to use fresh tomatoes, but the remaining ingredients can vary between homes and regions across India – the most common additions are onion, ginger, red chilli powder and curry leaves.
Coconut Chutney
Widely eaten in southern India, where coconuts grow in abundance, coconut chutney makes an ideal cooling accompaniment to rich, spicy foods. Grated fresh coconut is mixed with onions, green chilli and fried gram (roasted chickpeas), then blended to a smooth paste. Yoghurt is sometimes added to produce a smoother consistency, and it can be finished with a tempering of mustard seeds and asafoetida cooked gently in coconut oil.
Mint Chutney
Another widely eaten chutney, here fresh mint leaves marry with coriander, green chillies, onion and ginger to create a thick paste. This is combined with yoghurt, cumin and chaat masala, and mixed until smooth. Mint chutney is typically served with tandoori snacks, such as tikkas and kebabs.
If home cooking isn't your thing, then don't worry – the best Indian brasseries in London will serve an array of homemade chutneys and condiments alongside their traditional Indian fare.