The marketing industry has been using flyers and postcards for years to advertise their products and services. It is also used to introduce new services to the audience and also announce discounts, saving deals etc.
Many businesses put time and effort to perfect their printed marketing campaign every year, and the news industry is one such business. Here are some tips using which the news industry, be it magazines, newspapers, and even news blogs, can use print marketing products to improve business.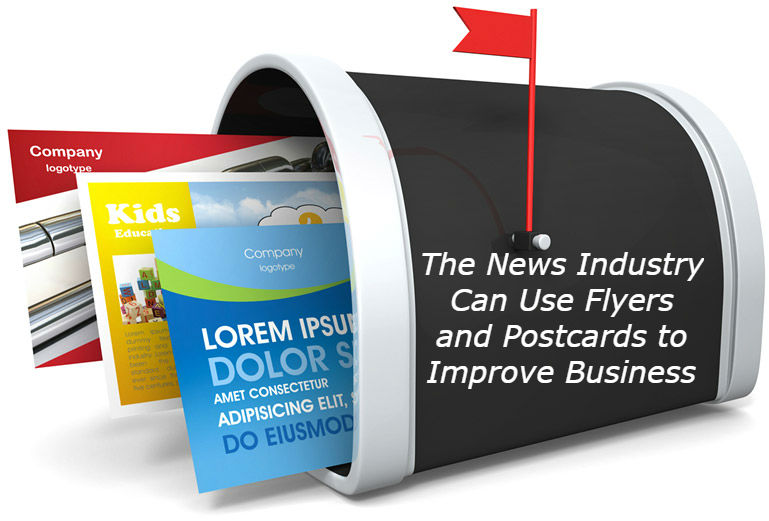 Flyers Should Be Unique
If you do a quick review of the street corners in your city, you will see that hundreds of flyers are being distributed at every corner. However, almost all of these are discarded without even a glance at the information that they give. This is because people have come to associate printed flyers with generic advertisements for products that they don't need.
If you want to save your flyer from being discarded as soon as it is received by the customer, it has to be ensured that it has a unique look and design. A catchy phrase or an attractive picture can get the customer to take a second look at your advertisement. In addition to this, the design and text must be in alignment with the content (business, general news, fashion etc.) of the news magazine or newspaper.
Include Real-World Testimonials in Postcards
You might say that you are the best provider of business news from around the world in your flyer ad, but the customers are more impressed when the same is said about your product in a real testimonial. Get a local personality or someone who can be found online to say something about your magazine or newspaper to get the best response. Make sure that the testimonial is from someone whose credibility can be easily verified.
Don't Look Like an Impersonal Ad
While flyers can get away with being overwhelmingly promotional, postcards are better given a personal touch. This will prevent the customer from throwing out your postcard with other marketing ones that comes in the mail every day.  Use fonts that look more handwritten and less printed and use goo quality paper.
Direct Customers to an URL
This tip is important whether you have a printed new magazine or newspaper business or an online news blog or site. Even the printed news businesses have an online presence and will definitely have a website. Direct your customers to a relevant URL where they can check out a digital form of the last issue or sign up for subscription.
Be Careful With Distribution
Regardless of how well your printed advertisement is designed and detailed, it will be in vain if your target audience does not come in contact with it. For e.g. if your business prints a fashion magazine, make sure that your flyers are distributed at fashion conferences, shows, or any place which may host fashion enthusiasts.
Using these printed products for marketing is one of the most popular, cheap, and successful ways to build awareness and even increase profitability.
To print cheap Flyers and Postcards for your business, contact fifty five print company.