In 1970 Congress passed the Occupational Safety and Health Act of 1970 and created the Occupational Safety and Health Administration (OSHA) to assure safe and healthful working conditions for working men and women. This government organization sets and enforces workplace standards by providing guidelines, training, outreach, education, and assistance.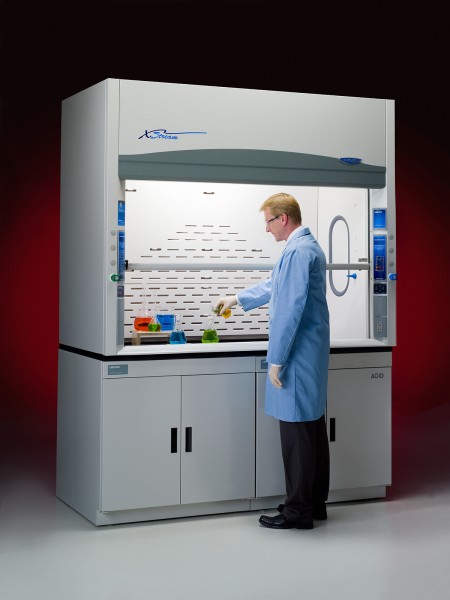 In the area of safety in laboratories, they have several guidelines covering the many risk issues that are common and likely. One particular area of great concern is the escaping of toxic fumes and odors that are created during experimentation and other processes that will take place. Because of their potential for harm to anyone in their vicinity when the fumes are released, specific protocols have been set that must be adhered to in order to be in safety compliance.
According to OSHA, the primary tool a lab must utilize for avoiding the escape and dissemination of these toxic gases is a fume hood. These devices, collect and exhaust the offensive vapors continuously ensuring the safety and comfort of lab workers.
There are many types of fume hoods with each category fulfilling a specific function in the lab. They range from wall mounted fume hoods to walk-in fume hoods and in between, there is a benchtop fume hood. Each is designed to collect and exhaust low-level corrosive vapors, heat, steam, fumes, and odors.
General Overview of Fume Hoods
A fume hood is a device that captures and contains fumes. They are designed to operate similar to the range hood found in the kitchen but are of a professional grade and quality. Also depending on the amount and types of fumes expected to be released, they can vary in look, function, and use. The fumes are removed via vacuum and filtered through a HEPA or carbon filter and either expelled from the room via ducts or recycled back into the lab using a ductless system.
Ducted fume hoods are used where there will likely be chemically dangerous fumes involved. In the case of less hazardous fumes, ductless fume hoods can serve the purpose. In a laboratory, there is often fume hoods of each type that are utilized depending on the types of materials being worked with and the danger of the fumes likely to be emitted.
Wall Mounted Fume Hood
Wall mounted hoods can look nearly identical to the range hoods found in kitchens across America. Some are also larger like canopies as well. Their design requires no floor space and they can be used above tables and workbenches to provide effective and economical venting of exhaust fumes.
Benchtop Fume Hoods
Benchtop fume hoods range in size and shape and provide a semi-enclosed bench to set up. There are a vacuum and air system that works alongside the filtration system in the unit providing fast and high levels of fume removal. These units are much more effective at containing fumes than a wall mounted hood.
Walk-in Fume Hoods
Walk-in fume hoods can either be floor mounted or custom built rooms that provide the highest levels of protection and fume removal. They can be made to be either completely self-contained units designed to suppress toxic fumes in their enclosed environment or to release those fumes once filtered. Walk-in fume hoods accommodate large equipment and because of their cost, are generally used in industrial, institutional and commercial labs.