When you are seeking a getaway that has it all, choose a vacation that offers you the breath-taking beauty of Thailand and the opportunity to play on the award-winning greens that are among the top 1,000 in the world. Between rounds, relax in the posh environment of the clubhouse that will keep you on top of your game.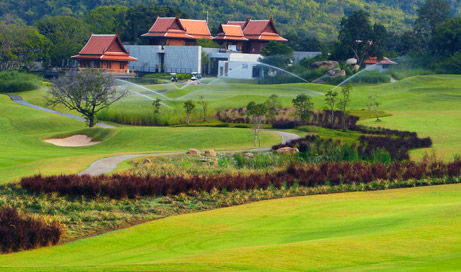 World-Class Experience
Every player and visitor to the pristine golf course in Hua Hin knows to expect the best in quality, customer service, and playing experience. The eighteen-hole championship fairway never disappoints with premium grass throughout. In the boxes, you will experience the luxurious Paspalum grasses and highest quality Zoysia throughout the fairways and rough. The entire experience was constructed and designed by Thailand's leading fairway architect, making it not only the best playing experience for you but a practice case study for its premium design and superior maintenance.
While in Hua Hin, you will experience the unique and contemporary clubhouse that is designed in Thai style. Inside, you will find luxurious changing rooms and exclusively available club suite accommodations. The exclusive suites offer a private infinity pool and generous in-suite amenities including a mini bar and a 42" TV with DVD player, music system, and satellite TV.
Adding to your comfort and enjoyment, the Terrace Restaurant and Mulligan's Pub will continue to impress with its full service and 5-star attention to your every need. Experience all of this whilst enjoying spectacular sunset views that highlight the beauty of the Burmese mountains. The view is sure to make your stay even more memorable for everyone in your party. The Terrace Restaurant offers all-day dining as well as a well-stocked wine cellar. Overlooking the first tee with spectacular sunset views, Mulligan's Pub is the perfect venue to enjoy a drink after your game and discuss all the birdies and near misses. Perhaps you will even have a hole-in-one story to share with the crowd!
If you are in need of any top quality supplies for your next round, stop by the modern and tastefully fitted golf shop, offering a wide range of major brands and equipment for everyone, including men, ladies, and even the little ones.
More Fairway Highlights
Playing the fairway will be a memorable experience for many reasons. The entire area is surrounded by enjoyable views and scenery to complement your game. With a total distance of 7,361 yards and a par of 72, your game winds through a pristine area that is perfectly maintained for your playing enjoyment and comfort. There is also a practice range with two large greens with bunkers if you want a little warm-up for your swing or just a little extra practice.
Enjoy the signature 15th hole, which entails a par-3, 139 yards that has views of the ocean to Singtoh Island. When you experience the beauty of Hua Hin, you will be sure to enjoy every moment spent on the fairway, in the clubhouse, or relaxing between games. While out on the green, be sure to stop at the 9thgreen or the 5th and 15th tee boxes to enjoy some well-deserved refreshment at the drink kiosks.