Although not the most popular spice here in the UK, turmeric is actually hugely popular in Asia and specifically India. Here it has been used for cooking for more than 2,500 years and is considered by some to be the ultimate spice – often dubbed the 'King of Spices'.
When flicking through any Indian cookbook, most recipes will incorporate turmeric in some manner. In fact, you'd be hard pressed to find any Indian cookbook that doesn't use the spice at all! The distinct yellow colour of turmeric is responsible for the appearance of many classic dishes, including daals and gravies.
Turmeric is actually a relative of the ginger family and is also similar in appearance. Not only does it produce a wonderful colour but the flavour – a peppery, musky, slightly gingery and fresh taste – adds real dimension to any dish. Turmeric is often thought of as being a cheaper alternative to saffron, the most expensive of all the spices.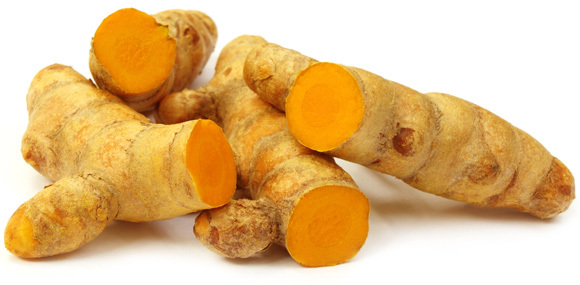 In the Indian state of Tamil Nadu, however, turmeric is used every single day and in almost every dish – morning, noon or night. One Tamil dish, known as kozhivaruthacurry,consists of chicken marinated in a paste heavily flavoured and coloured with turmeric. Other ingredients used in the paste include ginger, garlic and red chilli powder, along with lemon juice and salt for a kick. The chicken needs to marinate for a minimum of three hours to turn the wonderful golden-orange hue turmeric is famous for.
Turmeric isn't only used for culinary purposes, however – it also plays a significant role in the ancient art of Ayurveduc medicine and cultural ceremonies. It is used to help perform holy rituals to the god Ganesha; during these rituals water is added to turmeric powder to create a paste that is then formed into a cone shape for use in worship. At the harvest festival of Pongal, a huge turmeric plant is offered to the sun god Surya, and at a Tamil wedding a turmeric tuber is tied with string to replace the holy marriage necklace.
When it comes to medicine, the use of turmeric is well documented. It has numerous properties as it contains curcumin, an anti-inflammatory product that can be used for a number of ailments, including arthritis, headaches and as an anti-angiogenic for fighting tumour growth. Aesthetically turmeric can also help to smooth out skin and create an even complexion, and improve the texture of hair. For these reasons it is also used in another form at weddings in Tamil Nadu – as an anti-aging mask for brides wishing to look their best on their big day.
If you're interested in the other properties of turmeric, there is still an active Ayurvedic industry operating in India – there, you'll receive the best treatment and also get to sample some truly authentic turmeric-inspired dishes.
If a trip to India seems a bit much, however, why not head to one of London's top fine-dining Indian brasseries for a real taste of turmeric?Here, chefs will produce a variety of dishes that utilise this complex spice to its best effect.