If you've been keeping your pearls in a dark corner of the wardrobe in a velvet box, only busting them out every now and then for a wedding or a formal party, you should start wearing them more. Pearls are timeless and sophisticated, yet they never feel like too much. So you can rest assured you'll never come across as overdressed. If you need some inspiration on how to style your pearls or suggestions on where to find interesting pieces, check out these unconventional designs that are suitable for daytime events and for evening parties.
Beads Meet Pearls
If you've been too scared of jumping on the pearl bandwagon fearing you'll look outdated, you can ease your way into a pearl collection by choosing pieces that incorporate other materials. Pearls will seem less intimidating if they're combined with beads, copper, nylon filament or sterling silver. For example, this pearl necklace was handmade by bead weaving and it includes shiny iridescent 6 mm pearls, bicones and a simple clasp. It's a simple design that can be worn with dresses or buttoned up shirts for a touch of understated elegance.
Pearls All Around
If you're not a big fan of copper or other metals, go for a necklace that is made out of tiny beads and round and oval pearls. It has a youthful element to it, making it an ideal piece for a beach outfit or pool party. It's bound to beautifully complement your neckline and it will look pretty paired with matching earrings made out of tiny pearls.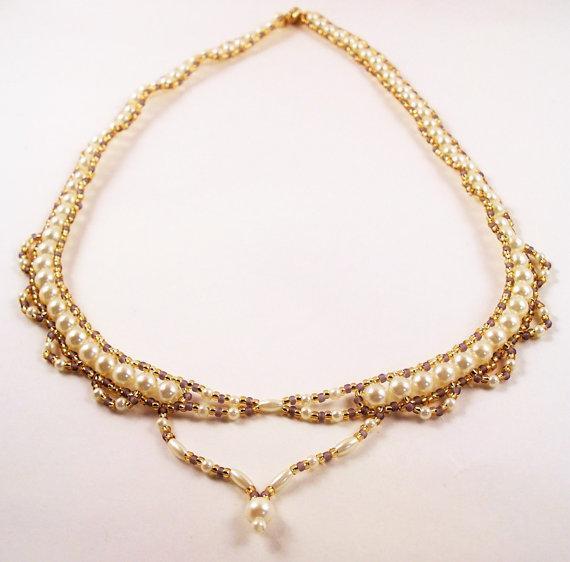 Eartastic
Pearl studs not really your cup of tea? You can still incorporate pearls in your earrings without compromise. These beautiful 1.5 cm earrings are made out of seed beads and round pearls. They are incredibly easy to accessorize and will flatter any outfit. The iridescent lavender pearl convey a romantic look that will go best with a messy bun or a fishtail.
Flower Power
It really doesn't get more casual than this. You can barely spot the pearls in the design that looks more like a fresh wreath than an elaborated pearl necklace. Unconventional jewelry enthusiasts will fall head over heels in love with this one. It's really a unique way to incorporate pearls in your outfit. I can see the necklace complementing a midi colorful skirt and a plain blouse, paired with a tiny chic clutch. Bold and fresh, this statement piece will certainly turn heads and turn you into a magnet for compliments.
Liquid Gold
These eye catching earrings are simple, yet very different than anything we're used to. Unlike the traditional pearl drop earrings, these can convey a touch of mysteriousness to any outfit. The white pearl elongates the jewelry and adds a playful element to the design. The end result is a bouncy piece that will look gorgeous peeking out of loose curls or big wavy hair.
A Touch of Blue
This piece of jewelry stands out not only through its vivid colors but also through its intricate design. A great statement necklace, the 3 mm turquoise pearls fit snugly among seed beads.
If you're not ready yet to rock layered opera pearl necklaces or pearl chokers, this is a great place to start experimenting with wearing pearls. The unusual color and the tiny size make the pearls suitable for daytime wear with any outfit.