So you've bought a motorcycle or a scooter and you are wondering if you need to insure it. As a motor vehicle that runs on public thoroughfares, there are legal requirements that vary by state. Most states do require at least a minimum level of insurance. But even if it is not required by law, it is a good idea to carry insurance for your own protection. Let's take a look at some of the legal and personal reasons to carry insurance.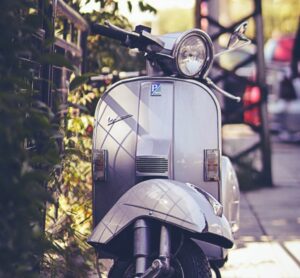 Legal Obligations
If you own a motor bike of any type, there are financial responsibilities the owner can be obligated to pay in case of an accident. Levels of liability, and types of coverage required vary by state are divided into two general categories: Property and Medical. Property liability includes damage to your bike and damage to other's property. If you finance your new bike, the bank will likely require full replacement in the event the bike it destroyed while they hold the lien. You will want to have medical coverage for two reasons. First, to pay your medical bills for yourself if you crash alone. Second is liability for injuries to others. If you are at fault in a multi-vehicle accident, you may be liable to medical bills resulting from injuries to individuals in the other vehicle. If you happen to be carrying a passenger at the time of an accident, you will most be likely be responsible to cover their injuries.
Personal Reasons
Any accident in any kind of vehicle can bring heavy financial and personal impact on the people involved. No rider wants to be paying off debts resultant of an accident they were involved in. According to the Motorcycle Legal Foundation, a motorcycle rider is 29 times more likely to be killed in a collision than occupants in other types of vehicles. This is not a scare tactic. But, as a motor bike rider, it is something we must consider. A less dramatic incident is theft. Bikes and scooters get stolen all the time. Theft coverage is a must. You don't want to be paying on a bike you don't have any more.
Where to Go for Insurance
There is an almost infinite supply of insurance suppliers who can cover any motor vehicle you care to insure. There are even companies that specialize in a particular type of motor bike. For example, there is a company that specializes in Vespa insurance. Of course, they cover other brands of scooters as well. Most major companies will cover motor bikes. Some offer package deals which give discounts if you cover your home or another vehicle with that company. The internet is a good source for researching companies. Local rider groups, dealers, and even friends who ride can provide first hand reviews of insurance companies.
In Conclusion
While this brief discussion does not cover every variable, it should show you the need for insurance on your motorcycle or scooter. Be safe, be responsible, and insure yourself from potential financial trouble associated with your favorite mode of transportation.