Do you get confused about the difference between OHSAS 18000 – an international occupational health and safety management system specification – and AS/NZS 4801? That's not surprising, and most people do.
Do you need one or both? Basically both systems were designed to work for organisations of all sizes and from across all sectors.
OHSAS 18001 is intended to help businesses control occupational health and safety risks and was developed in response to widespread demand. Anyone doubting its importance need only look at its pedigree, for it was developed via a concerted effort from the world's leading national standards bodies, certification bodies and specialist consultancies.
In the past there were so many different health and safety specifications, it was confusing.
AS/NZS 4801 was developed by the Australian and New Zealand standards associations.
AS/NZS 4801 is about the elimination of work-related injury, while OHSAS 18001 is more about the prevention of injury and ill health. However, in both cases, the ultimate goal is to create an injury and illness-free workplace.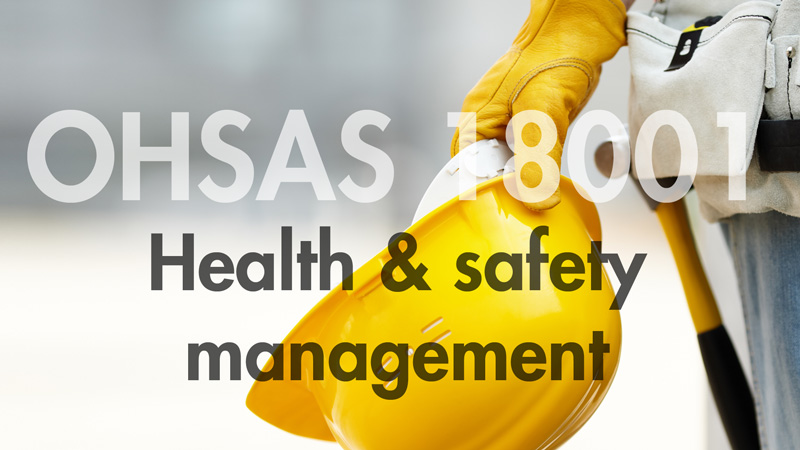 Talk to the Training Crew
When choosing which standard is best for your company, it's best to talk to a training crew. But generally, businesses operating solely in Australia and New Zealand favour AS/NZS 4801, while businesses operating or trading globally favour OHSAS 18001.
Thankfully, there has been a trend towards better workplace health and safety in recent years, as consumers demand great transparency, accountability and sustainability.
There are substantial benefits to be gained from OHSAS 18001 certification. Not only does it minimise the risk to a company's employees, but it also demonstrates diligence and gives all stakeholders confidence in that business.
Plan, Do, Check and Act
OHSAS 18001 breaks down into the following:
Plan: establish the objectives and processes necessary to deliver results in accordance with organisation's work health and safety policy
Do: implement the processes
Check: monitor and measure processes against work health and safety policy, objectives, legal and other requirements and report the results, and
Act: take actions to continually improve work health and safety performance.
It's really important to ensure that everyone in your business is aware of what they need to do to support the management system. They all need to be invested, and understand that it is for their benefit.
Choose Experienced Trainers
The key to successfully implementing these systems is to seek out OHSAS 18001 training, and make sure it is tailor-made to the needs and desires of your business.
Choosing the right training crew for your business may seem a little daunting, as there are quite a few around. But, as a guide, there are certain factors you should be looking for when making your choice.
For example, is there a choice of where the training is provided? You may choose to go to the training crew's own premises but it might be better for them to come to you.
And how about experience in your industry? There is no one-size-fits-all solution when it comes to such important training, so you want to be sure that the trainers are experienced in many different aspects of industry, including manufacturing, construction and engineering, electrical, plumbing, drainage and refrigeration, civil works, medical and so on.
Theory and Hands-on
Everyone has their own way of training others, but it is generally accepted that we learn best by combining theory with practical, hands-on experience.
You are not only training each individual employee to do their particular job safely, but you're also wanting them to buy in to the whole idea and see the bigger picture.
If you are looking for a training crew in Brisbane / Queensland, make sure you check out the range of experience.
Okay, so you understand what OHSAS 18001 training is all about – but what exactly does the OHSAS 18001 lead auditor course entail?
Conducting Assessments
The aim is to provide auditors with the necessary knowledge and skills to competently conduct third party assessments of Safety (WHS) Management Systems.
Practically every day, throughout the world, companies are putting employees through OHSAS 18001 lead auditor courses.
Generally the course runs over 5 days, as there is a lot to take on board. Once qualified, this is a very important role.
An OHSAS 18001 lead auditor needs to fully understand and implement the safety management system, and ensure it complies with all legal requirements.
They need to demonstrate continual improvement in the company's health and safety management and procedures, and be able to highlight any new risks.
And, of course, they have to learn the skills needed to conduct an audit of the system and report back.
Topics covered include management systems, WHS documentation, auditing skills, auditing process, audit reports, AS 4801 in detail, workplace safety, Initial Safety Reviews, risk assessment and principles of WHS management, lead auditor specific requirements and the certification process.
And whilst a written exam forms part of this qualification, make sure your training crew also uses competency-based training with activities and mock audit role plays.