Often with 'Green building' literature, LED lighting is said to be overlooked and those less satisfactory and more expensive environmental solutions are being pursued. With people slowly realizing the benefits of LED lighting, individuals and entrepreneurs are switching on to this cost-effective lighting options. It is without a doubt that LED lights do bring plenty of benefits to the users. Hence, it rightly needs to be part of any of the 'green' building, construction project or house.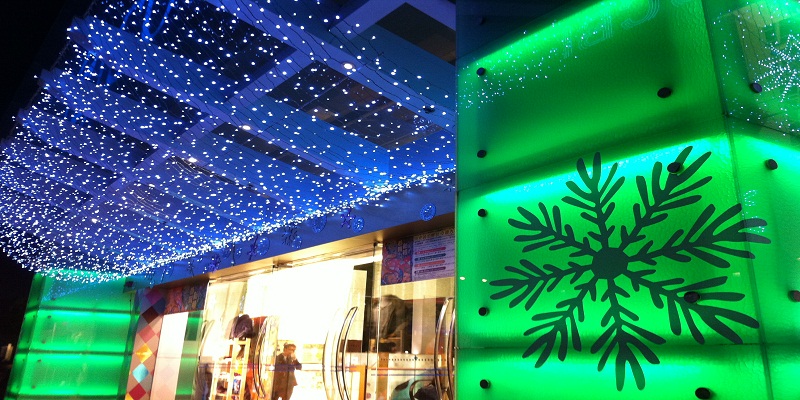 Some environmental benefits offered by commercial lighting solutions
It uses approximately 80% less energy when compared to incandescent lighting.
It has lenses to focus light into equal distribution pattern, thus enhancing energy savings. This is because light emitted by it does not get wasted due to it's not bouncing in undesired directions.
It produces 500% more light for each watt.
It does not produce much heat, thus making the room cool and to save on maintenance and energy costs.
It does not emit IR or UV radiation.
They can last around 25 times much longer when compared to incandescent lights, which is approximately 50,000+ hours. It does save a good amount of maintenance and not require buying new ones every now and then. Thus, the user can save plenty of money.
It does not contain any mercury, which is commonly found in fluorescents.
Aesthetic benefits derived by choosing commercial lighting fixtures
LED lightings do also offer the users with aesthetic benefits.
It is possible to control precisely color temperature.
The lenses are designed to allow better lighting rendition.
It does not pose any environmental risk in any manner.
Hence, going through the above benefits offered by LED lighting does show that it is a safe and wise investment made in any commercial establishment.
Expense
The truth is LED lighting fixtures do come with an initial huge cost. An average LED bulb is likely to cost much more than that of the incandescent light. But what one has to understand is that purchasing one and installing it to light up the place will mean, not having to purchase another for a very long time. It also saves hugely on energy bills. Simply try to take into consideration the expenses involved in replacing the incandescent lights from time to time, which otherwise can be covered by just a single LED bulb.
Performance
Then the extra energy that is used by the incandescent is something that should be taken into account. LED lights during the summer season are found to put fewer loads upon air conditioning. This makes it crystal clear that LED lights are effective enough to save precious money and hence, to form a great investment for any commercial establishment.
Buy the best brand in the market to ensure that the product lives up to individual expectations and is completely safe to be used at all places. They are cool the room and not heat it up just like the traditional incandescent lamps.