Travel to Thailand provides an incredible experience of its ancient kingdoms, natural heritage, and modern cities. Considered among the most exotic and beautiful destinations in the world, the country offers diverse sightseeing and fitness activities where you can engage in the ancient sport of Muay Thai. We look at the reasons to visit Thailand and how your holiday can help you improve your fitness.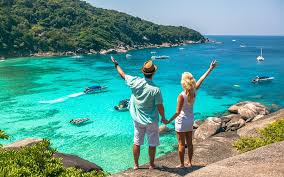 What to Expect Traveling to Thailand
Thailand is best known for its delicious cuisine, cultural integrity, and beautiful landscapes. When planning your travel to the region, you should prepare to explore the capital, Bangkok including the cityscapes, the history of the country and the amazing wildlife from forest tours to marine encounters. A vacation to Thailand can provide a memorable experience but it is important to prepare for your trip to make it an exceptional one.
Before traveling to Thailand and Phuket island, learn some of the basic terms to help you get from one destination to the next easier and safer. Remember to remain mindful of the traffic when crossing roads. Plan your trip to include various Thai destinations from a day spent at the beach to an exploration of city life and the local markets. With these simple tips for preparation, you can better enjoy your holiday experience.
Thailand and its Traditions
Thai culture consists of Hindu, Buddhist and Chinese beliefs each with an influence on its people and practices. When visiting many of the ancient temples, you will find impressive Buddha figures that are reminiscent of past kingdoms and religions. The history of the country is reflected in its remaining architecture. You can also experience the incredible richness of Thailand in the flavorful cuisine.
Coastal Resorts and Islands
The exotic destination is known for its beautiful surf and coast. Visit a nearby island to experience the incredible sights and sounds of the ocean. You can plan a diving trip allowing you to view the coral and marine life. Many tourists plan their holidays at a beach resort.
Outdoor Sights and Activities
Many forest trails are available throughout Thailand. When the weather is favorable, you can participate in a family hike or group mountain climb. Plan a trip to a wild animal sanctuary including close encounters with Asian elephants.
Thai sports are popular among tourists offering a fast and effective way to get fit. It has become a popular exercise regime in many conventional gyms but if you want to experience the authentic adrenalin pumping practice, a Thai training camp is an ideal choice.
Thai Training Camps
Tourists are encouraged to visit the Muay Thai training camps while on holiday at Phuket island. These camps have been designed to introduce the traditional techniques of Muay Thai at http://www.suwit-gym.com and help you achieve a healthier stat in a shorter period. Full of the traditions of Thailand, the training camp helps with weight loss, core strength and stability, and an efficient approach to achieving complete well-being. Join a Muay Thai program on your holiday and experience how to get fit and healthy fast.