Cruising in Croatia offers are growing from day to day, new boats are made every day, market is bigger so are offers. Cruising is amazing option for discover something new and for every age, from younger groups till middle-ages ones.
Explore different ships' types, from bigger ships (maximum 50 people + crew members) till smaller one called gulets (maximum 16 people+ 3-5 crew members) and choose the one which is mostly adjusted to your wishes and needs.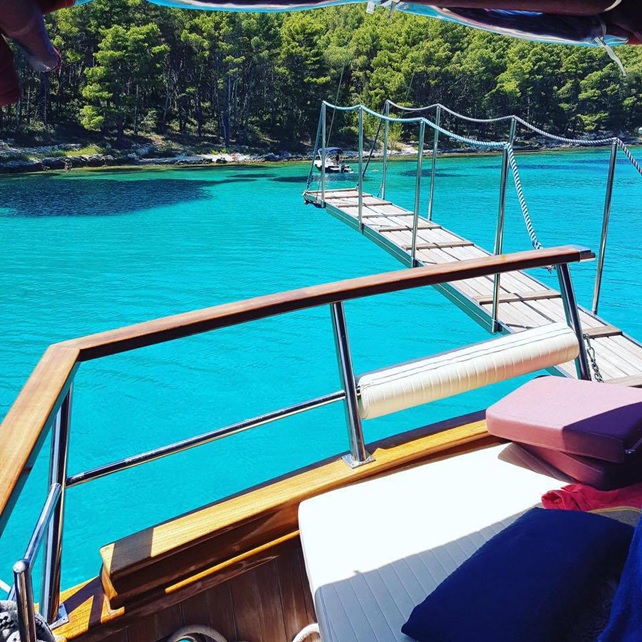 Cruising is amazing previously because you can see many things in short time. Especially because cruising routes are along Adriatic, which is not big open sea, so you won't need to much time to visit one place and then go to another. You will start your trip, for example, in Split, next day you will have breakfast  on the island Vis, and party on the island Hvar. One route for example, includes city Trogir, island Hvar, island Vis, island Korcula, island Mljet & island Solta. One of many amazing routes for discover untouched nature of Croatian islands and most attractive places. And this is just one example of many routes that you can pick from different routes or you can create your own one too! It's all on you. Croatia offers so many beautiful places to visit & beautiful things to do, so you wont regret visiting it!
Gulet cruises in Croatia are great option because prices are very attractive and acceptable considering you get accommodation, transfer, crew, fuel all that in half board (full board on your request). Cruising along Adriatic is the best way to spend your holidays. You will see so many different places in a short period, that can't be bad! You are every day in different place. No spending your own fuel and nerves in traffic crowd or finding parking places in overcrowded places. Ships can be part of superior, royal or deluxe category and categories depends of rooms size, toilets (precisely en suites) etc. Gulets are much smaller ships which can accept max. 16 people.
Like already is mentioned you will pay one price for transfer, crew, fuel, service, amateur diving equipment & fishing equipment, bed sheets and towels, sea/sun towels, air condition on board, port taxes (not ACY marinas), WiFi,
2 meals every day + local visitors are already included. Some extra costs (which are negligible) are beverages aboard, your personal transfers to the ship on the day of embarkation, parking places for your cars (if you are coming with car) and entrances for national parks and museums. All this depends from agency to agency and boats' owners, but in mostly cases offer is the same.
If you decide to cruise, you definitely won't regret. That will be totally different experience in your life and amazing vacation option.  Your only task should be relaxation and personal satisfaction. Recharge your batteries, choose cruises in Croatia and give yourself vacation of lifetime and enjoy life! To see more check your Croatian cruise expert!