With rising pollution levels, many people nowadays are seeking comfort in the lap of nature. Thus, they are increasingly resorting to surrounding their homes with natural products. The shift is significant in the present context whereby global warming and environmental crisis are on high alarm. Greener choices are healthier and essential for a cleaner future, if human is to survive for another century on this globe, then it is essential to acknowledge the ecosphere concerns.  Rugs are an important part of floor space decoration at homes or offices. With the eco friendly trend in vogue, one can easily explore from the wide range of eco friendly rugs available in the market. It is not only the greener choice but also looks great on floor spaces.
One can always chose from the Floorspace collection of coir rugs in an array of styles, colours, size, and patterns. It is a great alternative to their synthetic counterparts. The advantages comprise of non toxicity, anti inflammable, noise absorbing, anti allergic, stain resistant, low maintenance and much more.
Coir is obtained from the husk of coconut. It is then dipped into water so that the threads may segregate. These segregated threads are then dried and spun into yarns which are later woven to make beautiful products like carpets, rugs or mats.
Coir fibre has a golden color and is therefore also popularly known as golden fibre. Though it's not naturally golden, yet the dried end product has a golden appearance thereby gaining it the name of golden fibre.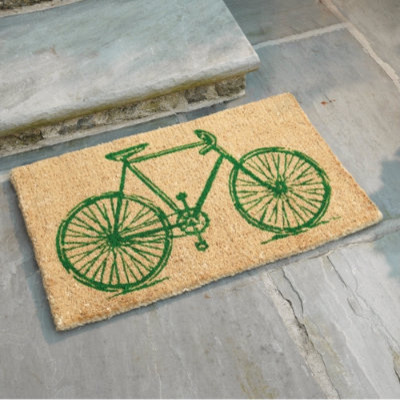 Coir can be easily dyed, thus is available in a wide variety of strikingly beautiful designs and colors.
Despite the natural raw material, coir rugs are not as widespread as other natural rugs like seagrass or sisal. This is because coconut plantations, from which coir is derived, are mostly found in India and Sri Lanka. The tropical climate of these countries favours the growth of coconut abundantly. Interestingly, the demand of coir mats has an upper hand on that of rugs made from coir. The reason behind it is the durability and resistance to moisture.
There are numerous advantages of using coir rugs of which some are listed below:
It is durable and can withstand hard wear and tear. Thus, it promises to last for longer compared to its synthetic counterparts.
It s a great choice for heavy traffic areas like kids playroom or the living room. Fibres of coir have great strength and people prefer to use it for its strength benefits.
Interestingly, the cultivation of coir doesn't require any fertilizers or pesticides. So, you can appreciate yourself for going easy on environment.
It is the most suitable option for homes where people suffer from any sort of allergies or infection, if you have any elderly member or any occupant suffering from asthma, and then it is highly recommended to purchase Floorspace coir rugs.
As mentioned before, its amazingly strong fibres make it resistant to mould or mildew formations. Prolonged exposure to water or moisture hardly has any effect over its appearance or texture.
A key benefit of employing coir rugs is its easy maintenance. Few shakes are just sufficed to ward off any dust or clumping. However, it is recommended to vacuum it to ensure a prolonged life. If there are any spilling, just wipe it with a clean cloth.
Since it is made of all natural products, it causes no harm to the environment.
A word of caution will include its unpleasantness to skin due to its rough texture.
So, purchase Floorspace coir rugs for use at a number of places in a number of ways.