A quick and easy way to pep up your child's room this spring is to add a beautiful rug. There are lots of amazing designs around that the little ones will love. A fun rug gives a room dimension, adds character and helps the child feel like their room is their very own personal kingdom. Here's what to consider when choosing a rug for your child's room.
Size. Save yourself a lot of time by measuring the available space before you hit the shops or fire up the internet to look for your rug. Work out where the rug will fit into the overall room, with its furniture, storage boxes and other paraphernalia. Also, think about the shape you want. Traditional rectangle, oval or something more fun?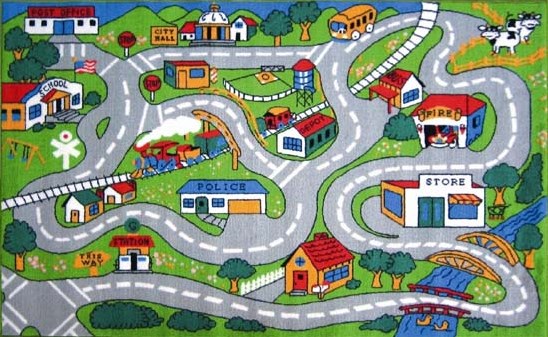 Colour: What's your child's favourite colour? how is the room decorated, and what colours will match the walls, curtains, bed linen etc.? If you are designing your child's room from scratch, you will obviously have a wider choice of colours open to you. Think about the design too – does your child love patterns? Butterflies? Animals? Let them have a say when choosing the colour and design of their new rug.
Hobbies: Does your child have a definite interest or hobby, such as cars and truck, or ballet and dancing? One of the fundamentals of creating the perfect room for your child is to place their likes and tastes firmly at the centre. Pay attention to the things that they love and add them to the room.  The rest of the house is yours to decorate, but a kid's room should say something about them. Even things like favourite cartoon characters or film characters can be depicted on a children's rug.
Education: Did you know that rugs can even help your child learn? Look out for examples with countries of the world, planets and stars and even the alphabet or times tables on them. This is an excellent way to teach children something useful without them even really realising it. Other types of rugs are useful to share positive attributes, such as sharing and kindness. For example, you could introduce a 'friendship rug', where no-one is allowed to be unkind to anyone else while they are playing on it.
Quality: Adults tend to care more about quality that children, who can have their heads turned very quickly by a superficially fantastic design without looking deeper into how the product was made. However, it is very important to choose a rug that will stand the test of time and will not grow threadbare or tatty too quickly. Children do not always treat their belongings gently, and accidents and spillages can happen frequently. Having a decent rug that can be cleaned and repaired easily will save money in the long run and carry on adding value to your child's room for many years to come.