Winter season is chilly and crisp, making your skin vulnerable and prone to damages. The skin have to be taken care of, to avoid the dryness and the harm associated with the winter season. There are skin care products that are specially made to help protect your skin from damages during the cold season. Below are face moisturizers, which have been proven to be effective for use on your skin during the cold season.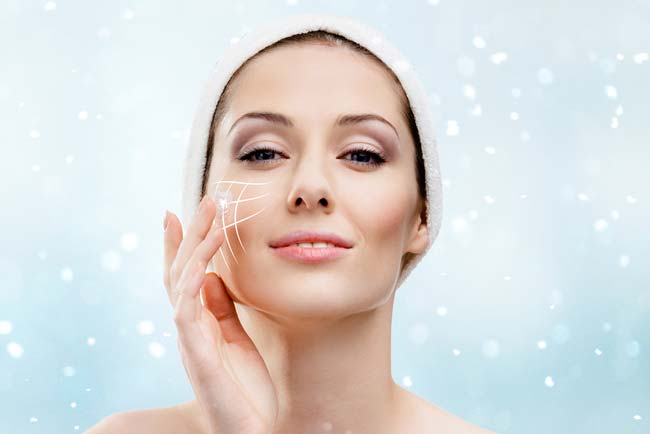 1. Jovees Himalayan Cherry Gold Cream
This face moisturiser is specially made for use during cold seasons. It features quality ingredients, which helps it to deliver intense moisture on your skin. It is rich in vitamins and natural oils, which reaches your skin dermal layer, to offer optimum hydration. This makes it to be the best face moisturizer for winter. Continuous use of this product will improve your skin appearance, making it to appear revived and glow with radiance. The components of this skin moisturizer includes: Vitamin A, carrot extracts, vitamin E, almond oil, olive oil, aloe vera, wheat germ oil and Himalayan cherry.
2. Vlcc Liquorice Cold Cream
This cold cream helps to revitalize your dry skin, making it refreshed and radiant. It contains nourishing ingredients, which helps to improve your skin health and prevent cracks and dryness. The ingredients used are of high quality such as rose petals, licorice extracts, grape seed extracts, saffron, vitamin E, aloe vera, olive oil and jojoba oil. This is the best face moisturizer for winter for you to have a glowing and bright complexion.
3. Garnier Skin Naturals Nourishing Cold Cream
This is a natural skin moisturizer, which helps to keep your skin well hydrated throughout the day and night. It is easily absorbed in your skin, enabling it to reach the dermis and moisturize your skin from the inside. This leads to a glowing skin. It also helps your skin to cope and maintain the moisture content despite a change on the environment. This face cream will provide your skin with other benefits like fighting aging signs, and protecting it from environmental damage. The key ingredients in this moisturizer is pure acacia and honey.
4. Ponds Moisturizing Cold Cream
This face cream works by covering your skin with a layer that helps to prevent water loss. It is made of quality ingredients, which promotes your skin ability to trap and hold moisture. Daily use of this product helps to increase your skin moisture content, making it well hydrated and glow with radiance. It is made of ingredients, which helps to restore your skin hydration balance. The ingredients used includes: milk protein, lipids, glycerine and emollients.
5. Nivea Cold Cream
Nivea is known for making quality products and it is the leading in manufacturing beauty and cosmetics. This cream has a thick consistency, which helps to layer your skin and prevent water loss during cold seasons. It also leaves your skin with a soft touch and healthy glow. It is made of nourishing ingredients like lanolin and eucerit. This cream provides intense hydration on your skin and protects it from allergies.
6. Lakme Skin Gloss Winter Intense Moisturizer
It provides intense moisture on your skin. It helps your skin to lock moisture and avoid losing water to the environment. It keeps your skin well hydrated, preventing it from dryness and leaving you with a translucent glow.
7. Blossom Kochhar Aroma Magic Aloe Vera Cold Cream
This products helps to treat dry skin, by providing intense hydration. It soothes your skin preventing it from flakiness and drying. When this product is used daily, it locks moisture making your skin to glow. It also helps to improve your skin elasticity and prevent it from damages. It is made of lavender oil and lemon oil, which encourages water retention during cold season.
8. Emami Malai Kessar Cold Cream
This cream is thick enabling it to create a layer on your skin to prevent water loss. It delivers moisture on your skin, making it to glow. It is made of quality ingredients, which nourishes your skin, to improve the overall health.
Conclusion
It is not that easy to maintain a glowing and well hydrated skin during the cold season. Your skin needs to be treated using skin moisturizers which are specially made for use during cold season. This will prevent your skin from flakiness and dryness that it gets once it is exposed to dry weather. Moisturizers for cold season not only hydrate your skin, they also provide other health benefits. Skin moisturizers for use during cold weather are readily available from the cosmetic shops.