Whether you are designing a landscape in the heart of a big city or maintaining a space out in the country, there comes a time when you are confronted with the necessary conversation about the birds and the bees. Backyard bird feeders and bug hotels have been in the headlines in the last couple of years as an option to help counter the effects of loss of habitat and to help preserve a vital part of the natural landscape.
Despite the many benefits, which we will consider, it is important to keep in mind that certain drawbacks can be easily met head on if, like all aspects of landscape design, you think proactively and do a little planning.
So what are the benefits of bird feeders and houses?  Bird feeders accomplish a very obvious goal- They attract birds to your yard. Often times though, the absence of bird houses and trees in the area can force endemic species to relocate to drains, attics and various parts of your home.
This issue can be easily handled by taking a few steps to provide a desirable place for welcome creatures to build their nests. Naturally, the best option is to plant trees and consult with a landscaping specialist about adding scenic beauty in your yard which serves a variety of functions.
Maybe you have limited space or neighborhood restrictions which prevent planting trees or you want to do more than wait for your magnolias and palm trees to grow. This is when a well-placed bird feeder or birdhouse comes into play.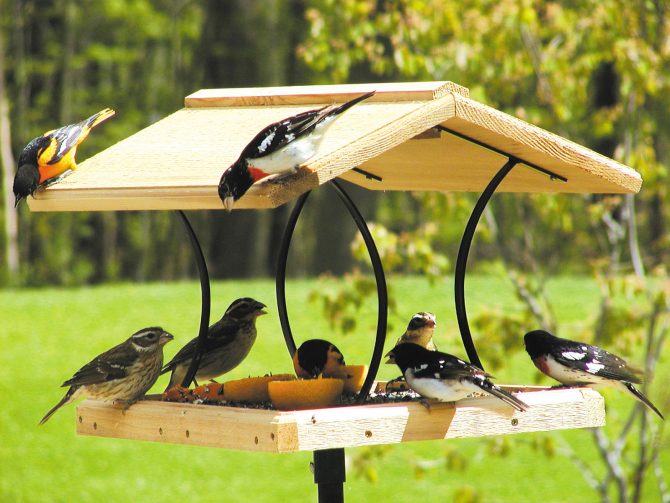 In order to achieve the benefit of helping birds survive without attracting unwelcome pests like squirrels and rats, you may want to avoid certain types of feeders. Hummingbirds drink a sugar water mixture which can attract ants and certain insects, so it is best to place these feeders away from the direct area around your home.
One of the best recommended locations for any type of birdhouse, feeder or bug hotel is always the fence perimeter around the yard. This keeps critters away from children, windows and pets. It goes without saying that putting a bird feeder near the house increases the risk of broken windows and an unwanted mess, so keep this in mind when placing any kind of animal habitat.
Another thing to consider is proximity to where you grill and eat outside with family and friends.  When finding the perfect spot for a bird house or apiary, you want to avoid places where you prepare food to reduce risk of disease and to prevent unwanted interactions with bees and other insects that can harm you and your children.
Some other drawbacks come from cost and maintenance. When purchasing bird seed, it is important to review which types are safe for the birds that live in your area. Some species of birds require very expensive food and clean-up of their feeding areas may be a bigger responsibility than you want to assume.
For something so simple, there is much to consider. Landscaping specialists and backyard designers can help. Detailed knowledge of spatial manipulation often entails knowledge of recurring problems with pests, so it only helps to consult a professional when optimizing your landscape.
Todd Stetka is a Backyard Landscaping Architect and Blogger with Dream-Retreats.com