Sliding barn door hardware is a hot item right now. As more people are putting unusual doors into their home and looking for unique ways to design their spaces, fun ideas like sliding doors and accordion doors are growing in popularity. With them comes the chance to change up your home with custom features, including custom hardware designs. It's going to take your designs to a new level entirely, and you won't have to look hard to find places to shop. Sliding barn door hardware comes in all shapes and styles, and it is going to add the finishing touch that every design needs. If you aren't sure what you're getting into, here are some tips to help you along the way: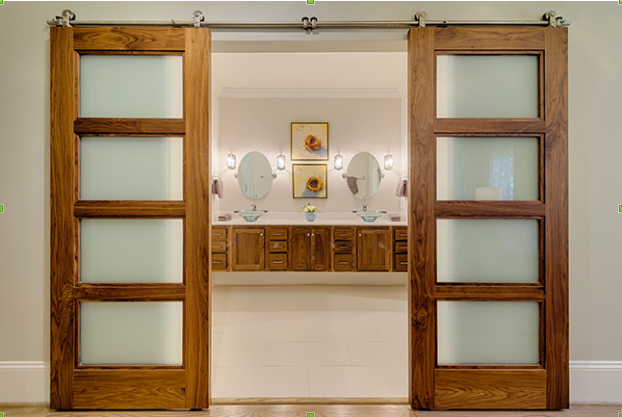 A sliding barn door is a space-saver as well as a design feature. It's not often you get so much fashion and function in one, but here you can. If you capitalize on choosing a stylish door, you can take your time selecting from a huge inventory of barn door hardware to accent the door that you have chosen. There are rustic styles, modern and contemporary pieces, and even industrial hardware for your sliding doors.
Barn door hardware is all made from heavy-duty materials and high-quality metals, but it is designed to be affordable and flexible to fit any design. While structure is the foremost issue with this hardware, it is also created with aesthetics in mind. From black powder-coated rustic hardware to the modern tubular track that your barn door can be attached to, it's all going to stand the test of time.
Make sure that your hardware matches the style AND the design of the door. While you might get one or the other right, it's often overlooked to try to match both. This could create a valuable high-end design feature in your home, so you need to make sure that you do it right.
Barn door hardware includes automatic sliding devices and other cool pieces that go beyond the handle and the barn door track. Make sure that you check out all of the different hardware that's out there so that your door is finished perfectly.
If you need a door that's closer to the wall for privacy, such as in the case of a bathroom or bedroom, you should utilize a lighter door and flat track rolling door hardware. The tubular track is great for style or for heavy duty installations, but it will make the door stick out from the wall further, limiting privacy.
Bigger is better. Barn doors are statement pieces. They aren't small, by any means, and they need hardware to accompany them. You should choose oversized, stand-out hardware pieces that will get the sliding barn door the attention that it deserves. You don't want to put a standard-sized handle on a huge sliding door, after all, because that would not complement any design.
Make sure that you choose rolling door hardware and a sliding door panel that you're going to love for many years to come. This high-end investment isn't something you'll be able to change all the time, so be sure to choose a style that you fall in love with for the long-term. An investment like this isn't just for a short time. It's a commitment; a love affair, if you will, and your love should go on for the foreseeable future.
The sliding barn door is going to spruce up any space and increase your home's value. Adding the right hardware will just make things better. Keep this in mind and you'll have no trouble making the most of your renovations with sliding doors and sliding barn door hardware.