Industrial workers are often exposed to the dangers of workplace accidents. Using sharp objects is often risky as workers are vulnerable to cuts and amputations on a regular basis. The usage of cut resistant gloves can assist in bringing down the number of hand/ finger injuries. OSHA (Occupational Safety and Health Administration ) is an organization that deals with workplace safety. It can fine organizations that do not provide an adequate level of protection for any equipment used for personal protection. Therefore, it is a better option for companies to take proper measures as the fines that OSHA charges are hefty. Here, we will discuss the importance of using cut-resistant gloves in factories:-
Application of Cut-resistant Gloves
Cut-resistant gloves are developed with precision to keep the hands safe from sharp-edged items that are composed of metal, ceramic or glass. Its resistance to cuts is dependent on the thickness and the material composition of the glove. The cut protection can be increased by increasing the weight of the materials. Another suitable alternative of doing so is through the use of mixed yarns made with different combinations of fiberglass and stainless steel.
Glove performance is not affected just by the weight of the materials, but also on the coating used on the outer surface. Styles with light weight have more flexibility and cause less stress on hands. On the other hand, heavier weight styles usually provide the user with greater protection against cuts and abrasions. Coating gloves are most suitable for use in slippery surfaces since they improve the grip factor.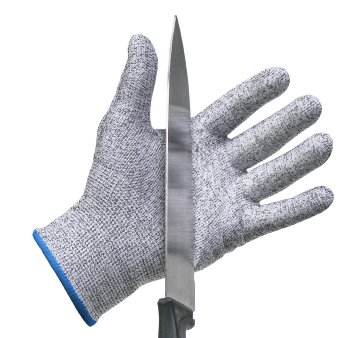 Materials Used
Dyneema
This fiber is strong and provides maximum support along with minimal weight. Is is far stronger than premium quality steel, and can float on water. It has high durability and can resist UV light, chemicals, and moisture.
Spectra Fiber
This molecular weight fiber provides high cut resistance even after getting wet. It is ten times stronger than steel in terms of per unit weight. Gloves made from this fiber can resist cuts and abrasions and are also flexible and lightweight. They are most suitable for use in assembling of appliances, automotive assembly, and food processing.
Super Fabric
It is a combination of some surface coatings, layers, and substrates. Because of its distinct characteristics, this material is used in fabrics with different levels of abrasion, cut, and puncture resistance. Gloves made from SuperFabric have a good grip as well as flexibility.
Steel Core
The gloves made of the steel core are resistant to cuts and abrasions. It is used in manufacturing gloves that are used in the techniques of meat processing, metal fabrication, glass handling, etc.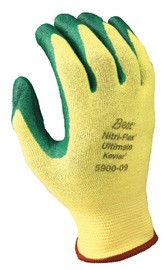 Methods of Cut Testing
Some of the widely used methods of testing and standards are mentioned below:-
EN 388-2003
EN 388-2003 is the European standard followed for ensuring that the protective gloves are resistant to mechanical hazards. The Couptest cut test machine is used during the test process.
ASTM F1790-97
ASTM F1790-97 test method is used for measuring the cut resistance of materials used in protective clothing. DuPont developed this method. It is used in labs equipped with a Cut Protection Performance Test machine. The cut data produced through ASTM F1790-97 method is used to define cut levels of American National Standard / International Safety Equipment Association (ANSI/ISEA).
ISO 13997
ISO 13997 is the international test standard for the TDM cut test machine.
Once companies equip their workers with cut-resistant gloves, the incidents of hand injuries could come down substantially. This way, they would not have to worry about paying hefty fines to OSHA either.
For More Information Visit: Texas Safety Supply