The difference between High Quality (HQ) carpets and Low Quality (LQ) carpets couldn't be greater. Not just in how they feel and look, but in how much they cost. For the sake of this discussion, let's say you have enough money to buy either. Is high-quality carpet really worth the extra money?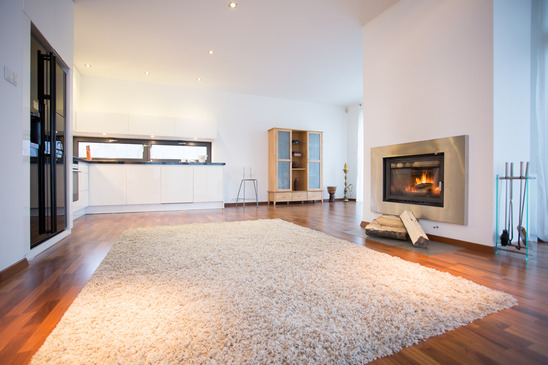 The Cost Difference
Let's look at the numbers first. A typical house takes about 180 square yards of carpet. A builder grade of carpet, installed with pad, runs just over $3k. Now if you get 180 square yards of a HQ carpet, that will cost about $10k. Is spending three times more money worth it?
That is something you have to decide on for yourself, but if you really look at the options, you don't have much of a choice. If you own a good-looking home, you're just about forced to ante up. For one thing, about $1,300 of that budget is just for installation. If you buy a lesser grade and have to re-carpet again in five years, you have to spend that $1,300 again, not to mention the cost of replacement carpet. That adds up.
How High & Low-Quality Carpets Feels
Let's talk about the differences between the two. HQ carpets feel much thicker and more luxurious. From the moment it is laid down, people walking across it are overcome by the feeling of sheer elegance. HQ carpets wear and clean better too. This is an important point because it can still look new after 7 or 8 years if it is maintained properly.
With a LQ carpet, this does not happen unless you do not walk on it. The lifespan of a LQ carpet is closer to five years. That means it looks bad in the 3rd or 4th year and by the 5th year you have no choice but to replace it.
In regards to cleaning carpets, there isn't a ton of difference. High quality cleans very easily and low-quality ones clean fairly well too. Soil and stain resistant technology improvements have benefited all grades. The huge difference between the two is that HQ carpets are made with the most advanced yarns that can be cleaned over and over again and still be stain resistant. That's not the case with LQ ones. Low-quality carpets start looking worse for wear after a few cleanings and there's nothing you can do about it.
How High & Low-Quality Carpets Looks
Another difference between the two is how incredibly good HQ carpet looks compared to LQ. If you own a nice home, you really can't put a cheaper grade of carpet in because everybody can tell from the mere sight of it. It would be the same as having a pretty room that has scratches and marks down the wall.
The Resale Value
It is common knowledge that putting new carpet in a home increases its value. It is also a tremendous insulator and sound reducer. In a room where a family might sit around, the carpet will always be the first choice. Who would want to sit on a tile or hardwood floor? HQ carpets are especially important in these rooms, and the lushness of their pile makes them feel like a bed on the floor. Toddlers learning to walk need some cushion in case there's a fall. Thicker carpets are perfect for this common family mishap.
The Allergy Factor
What if you have bad allergies? Then you can't get carpet, right? Wrong! If you can afford a HQ carpet, there are product lines that have zero off-gassing – this is another technological advancement over the last decade. You will not find this in LQ lines but HQ ones are filled with them.
Don't Discount The Softness
Just the softness of high-quality carpets today is stunning. For decades, consumers have been telling carpet manufacturers their carpets were too hard and rough. Every time carpet manufacturers made a really soft carpet, it wore out in six months. But about 10 years ago they started tinkering with new yarns that were softer and did not wear out. They have improved these soft carpets and have figured out not only how to make them softer, but testing shows they out wear the harder, older ones by 30%! Today's carpet manufacturers are witnessing the most amount of growth from these soft, HQ carpets.
This is a venue where LQ carpets are truly lacking as these soft fibers are not available in LQ carpets.
The Color & Styling
One of the biggest differences today between HQ carpet and LQ is the color and styling they come in. LQ carpets will generally be available in a color bank of about 12-15 colors. HQ carpets usually come in 40 colors or more. But the styling is the real game changer.
There isn't much you can do with LQ carpet. You can make it solid or multi-colored, but that's about it. HQ carpets come in every pattern, pile, style and color you can think of. If you want the latest and greatest decor for your home, HQ carpets can deliver.
In Closing
Let's face it, replacing carpet is a lot of work. And it's all the more reason to get a HQ so you don't have to do it again in five years. The other great thing about replacing carpet is that your home gets the most thorough cleaning it can get. Everything has to be moved so most homeowners take this opportunity to give or throw away lots of "stuff". When the new carpet goes down, you get to choose what "stuff" will stay and what will go. It is intrusive and a bit of a pain, but you're overcome by a great feeling of cleanliness when it's all done.
I would be remiss, if I didn't address the elephant in the room; we can't talk about spending $10k replacing carpet without discussing other flooring surface options. For example, you may be thinking, "Who would ever spend $10k on putting carpet in their home when this amount can buy hardwood or tile?" And in fact, the cheaper hardwoods, tiles, LVTs and laminates may fit into this budget better. But if you want nicer wood or laminate, the price can easily be over $15k.
The final decision really comes down to one thing. Do you want the warmth and comfort that a high-quality carpet provides or do you need a quick fix?