Aside from a self-cleaning oven, there are some tips and tricks to oven cleaning. House cleaning, including kitchen cleaning should require using non-toxic, chemical free products. In order to keep chemical substances from being released into the air when cleaning an oven, there are 5 ways to remove grease from your oven in a natural way: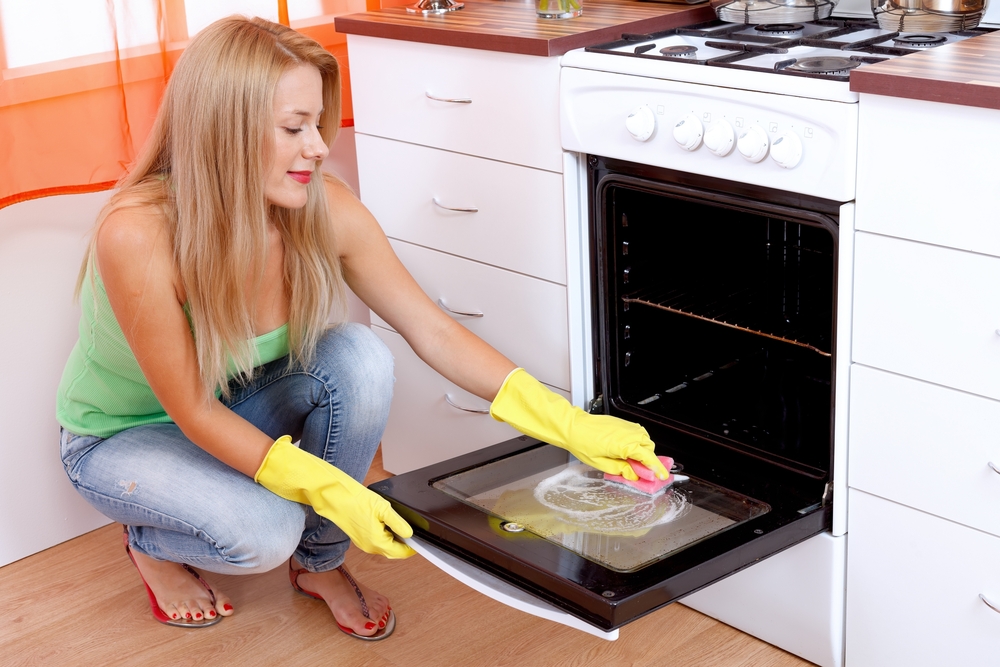 1. Baking Soda
Baking soda has always been a degreasing agent used by homemakers for years. To rid your oven from baked on grease, baking soda is one of the best cleaners, that is also natural and healthy. Simply spray the inside of the oven with water, then pour on a couple of layers of baking soda, especially on the bottom. Let this sit for a few hours, then wipe up the paste and the grease and the grime will also lift off. Completely rinse or remove any residue so that when the oven is hot, the baking soda will not smoke.
2. Salt and Baking Soda Paste
Another oven cleaning tip is a paste made of baking soda, water, and salt combined together to effectively lift the grease from the internal oven walls, ceiling, and bottom. Apply the paste to the greasy oven stains, close the door, then turn the oven on to 500º for 1 hour. After the oven has cooled down, wipe the residue with a damp cloth.
3. Lemon Juice
Many oven cleaners contain a lemon extract due to its grease cutting properties. Make a paste of equal parts of lemon juice and salt and apply to the grease stains. Allow this mixture to sit for fifteen minutes or longer, then scrub away all the based on grease.
4. Steaming
Hand-held steamers can be purchased at affordable prices in many home improvement stores. Investing in one of these oven cleaning devices to remove grease from your oven is a good idea. Steam cleaners have long been used to rid outdoor grills and a number of other equipment from stubborn greasy stains, as well as in general cleaning. Hot water focused on greasy stains is a natural and effective solution to cleaning your oven quickly and safely.
5. Ammonia
Ammonia can cause skin irritations, therefore first equip yourself with a pair of long cleaning gloves. Preheat the oven to 150º. Also place a pot of water on the top for boiling. Leave the racks in the oven intact. Pour 1 cup of ammonia into a baking bowl and place this on the top rack of the oven. Place the boiling water on the bottom rack, then close the oven door. Leave them in the oven overnight. On the next morning, remove the bowl of ammonia and the water. Air out the oven for 15 minutes or shorter, because there should be less ammonia fumes due to its sitting overnight. Prepare some liquid dish soap and warm water to scrub the grease and grime away.
References:
http://www.buzzandlola.com/how-to-remodel-your-kitchen-on-a-tight-budget/