A modern clinic needs to have a variety of equipments and supplies to provide proper care to the patients. While the specific needs of a clinic can be determined on the basis of the type of clinic and the services it offers, there are some equipments, like the medical diagnostic instruments, surgical equipments, etc. that are very commonly found in almost every clinic. Let us have a look at 5 such equipments and supplies.
Every clinic requires a specific set of equipments that it needs to functions properly. With the advancements in medical technology, modern equipments are now more capable and do an excellent job of making things easier for medical professionals. When it comes to buying equipments and supplies for a new or existing clinic, it is the services that the clinic offers that can allow you to determine the type of equipments that it needs. However, some of them are very commonly found in almost every clinic.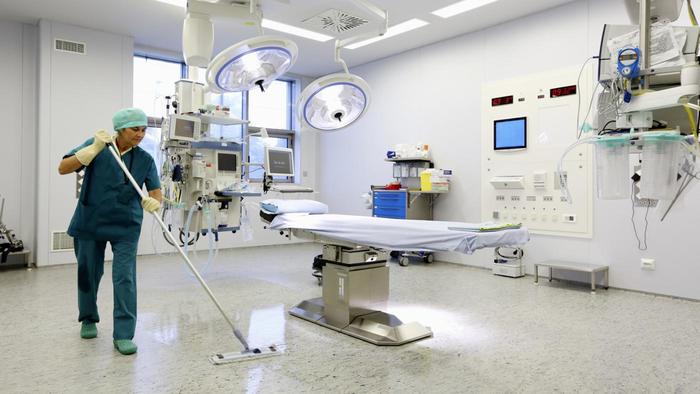 Let us have a look at 5 such equipments and supplies-
Diagnostic Equipments
A clinic needs a variety of basic diagnostic equipments, like blood pressure aneroids, stethoscopes, digital thermometers, dermatology diagnostics, etc. for diagnosing the patients. All these medical diagnostic instruments are now available in many different types and have advanced features to provide efficient functionality. Depending on the requirement, a clinic can invest in the diagnostic equipments that suit them best.
Cleaning Supplies
Cleanliness is of utmost importance in every medical environment and this makes Hospital cleaning supplies very important for every clinic.  Disinfectants, cleaners, task wipers, clothes, rags, precision wipes, handwash, etc. are some of the supplies that are very commonly found in every clinic. Make sure that you keep these supplies well-stocked for easy access when required.
Exam Lights
While halogen lights were used in the past in clinics, they have now been replaced with the modern LED exam lights. These LED lights offer better light output, heat output, color temperature and consume lesser amount of electricity, making them efficient and cost effective. Moreover, they are available in many different types of wall, portable and ceiling mounts.
Electrosurgical Units
Many of the clinics offer electrosurgeries which are performed with the help of electrosurgical units. These units feature a handpiece which has single or dual electrodes. Modern electrosurgical units allow you to increase the watt power by up to 1/10th of a watt. Moreover, they come with hand switching pencil that is controlled by a remote control to allow medical professionals to easily change the power settings while still maintaining sterile field.
IV Catheters
Catheters are placed in the peripheral veins of the patients to administer fluids or medication. When inserted, the line of the catheter can be used for drawing blood. These catheters are made from many different materials and clinics can choose them as per their requirement.
These are 5 of the most commonly found equipments and supplies found in clinics. If you don't have them already in your clinic, now you can easily buy them online too. But make sure that you only choose a reputable seller.