Screen printing is a method to create a beautiful and desired pattern of a picture on the surface of the cloth. In this process, the machine will force the metal or ink on to the surface of the cloth by using a fine material screen to create a picture. Beyond a doubt, screen printing has gained immense popularity in the recent years. Yet there are some myths related to it.
Everybody talks about those myths of custom T shirt screen printing. Here are five of them and they are definitely much far from the truth.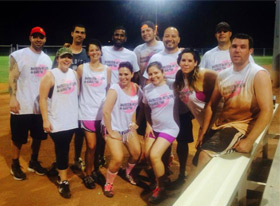 Order screen printed clothes in bulk quantity – Definitely not! Though there are a few companies that take you seriously only when you order a minimum quantity of hundreds or thousands of T shirts. However, there are certain companies that have no restriction of the orders of lesser quantity. They equally cater to customers who do not even fulfill the criteria of bulk order.
Screen printing is for printing T shirts – Wrong! The custom T shirt screen printing which is the most popular item for screen printing. But there are various other types of clothing such as hoodies, polo shirts, uniforms, babygrows, and sweatshirts on which screen printing work wonders. It is the popularity of screen printing on T shirts that has sparked the similar interest in other clothing line as well.
Local screen printing is costly – Not at all! Research for screen printing units from all the local providers and check on their prices. You may find that the local prices are far more affordable than the prices which the online designers quote. It is because the online designers include the setup cost and shipping fee (per item basis). Also, there are many online designers who utilize the local machines for screen printing. The local screen printing may be available to you in better prices and quality. Also, as you are getting the shirt printed locally, the delivery is also comparatively faster.
No high quality printing on dark fabrics – The arrival of new colors and technology has undoubtedly made it a myth. High quality printing is very much possible on dark colored fabrics. Due to the latest addition of colors and printing techniques, dark fabric screen printing is obtainable in very many exciting colors, that are just right to pull off.
The process of screen printing requires laborious work for long period of time – Yes, the process of screen printing takes time, precaution, and effort. But, the companies providing these services have decades of relevant experience, capable of fulfilling the bulk orders round in seven days. This time of completing the order will largely depend on the factors such as urgency of the order or the availability of stock.
Other than these, people also have a myth that the printing will eventually flake or peel. We cannot totally deny this as they might have had a similar experience in the past. However, due to the recent advancements in the tools and techniques of screen printing, there are absolutely no such cases of damaged printing encountered by them.