In the United States, the laws for carrying a firearm on a boat are complicated. If you traveled along the east coast from Maine to Florida, you would be subject to the laws of 12 states, each of which vary wildly. Even with a concealed carry permit, you may run into a complex set of guidelines that govern the borders between national and international waters, and you can never be sure how local law enforcement or the coast guard may navigate this legal gray area.
However, if you want to carry a gun on a boat for protection, there are a few rules you should follow to ensure its safety and the safety of your passengers. You also should understand the complexities of the law, so you can abide by it and avoid any complications. Here is a look at what you need to know about firearms and boating.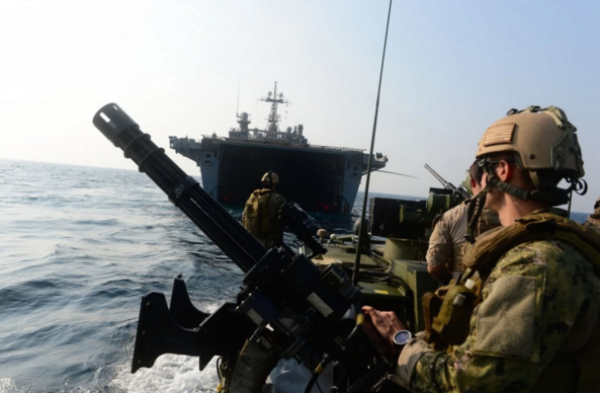 Borders Between Maritime Law and U.S. Law
When you're captaining a boat or yacht on the open ocean, you need to know what jurisdiction you fall under at all times. When you're in international waters, you are still operating under the flag of your country of origin, which means you are subject to the laws and regulations of the U.S. This means that you can carry a firearm and ammunition as long as it's permitted by U.S. federal law. Basically, the same laws that give you the right to carry a gun in your car or to keep a gun on your person in a concealed carry holster apply in international waters.
If you are carrying a gun in international waters, make sure you are flying a flag that clearly signals your home nation. If you come in contact with any law enforcement, international or otherwise, politely inform them that you are carrying a weapon for protection as permitted by U.S. law.
Traveling to Another Country
In general, international waters start at precisely 12 miles from the coast of any sovereign nation. Once you are closer than 12 miles, you are no longer subject to maritime law and you are now subject to the law of the country whose border you've crossed into.
For U.S. boaters, Mexico is a common travel destination, so it's worth knowing how its laws differ from the U.S. For instance, Mexican law requires a special permit to carry a gun. This law holds both on land and sea, so you should leave your firearm home if you plan to travel south of the border. Canada's laws fall somewhere in the middle, requiring that all weapons are declared upon arrival at the border.
State-by-State Laws
The greatest confusion with the law occurs when examining state-by-state guidelines. Florida, for example, has more lax regulations for carrying firearms on boats, but New York's laws are some of the strictest in the country. These territorial law changes can make carrying a gun on your boat a bit like going through a legal obstacle course.
From the standpoint of legal jurisdiction, carrying a firearm on a boat might be more trouble than it's worth. However, it can be done with a little bit of common sense and planning. Make sure you know and understand the laws of any state you travel to, especially the reciprocity guidelines that may affect how two states recognize one another's gun restrictions. In the end, this is the only way to ensure that you are carrying legally.