Stunning architecture, natural beauty, multiple cultures, awe-inspiring sights and attractions, and warm, welcoming people – these are just some of the reasons why Singapore has become the tourist haven that it is today. This nation, once colonized, used to be a poor nation full of immigrants. However, thanks to their industrious citizens, they are today one of the most developed economies in the world.
Tourism continues to fuel the economy here. Travel companies claim Singapore Tour packages are their highest selling packages, which proves people want to explore this beautiful country.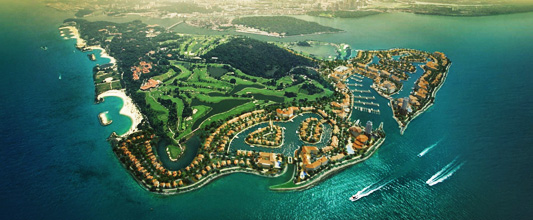 There are many places to visit in Singapore. However, not all of them can be seen during a vacation. Therefore, you need to know where to go in Singapore, and experience its best sights and attractions. For your convenience, we are providing you information on the top 10 phenomenal places to visit in Singapore that you dare not miss.

Sentosa Island
This is the perfect place for a family vacation, as it has fun and entertainment for people of all ages. As the name suggests, Sentosa Island is an island designed to be the best tourist attraction. You are taken to the island on a cable car, whilst you enjoy superb views of the harbour. Sentosa Island is sprawled across a massive 500 acres, and is home to multiple themed attractions, underwater aquarium, water sports, lush rainforests, spa retreats, golden sand beaches, world-renowned golf courses, a deep-water yachting marina, and luxurious residences. It is definitely a place you must not miss.

Singapore Zoo
At the zoo, there are Day and Night Safari Packages. We would suggest you try the Night Safari. In that, you will be taken through the zoo in trams, and get to witness nocturnal creatures in their natural habitat. From predators to little furry animals, the zoo has it all. It  is designed to look like authentic Asian forests. Throughout the trip you will be secure while you enjoy looking at the wildlife.

Marina Bay
Marina Bay is truly one of the finest man-made spectacles you will see. Come to this place at 8:00 pm, when the light show starts and illuminates the water. The Marina Sands Complex is the main structure to witness, and the surrounding areas also provide many food and entertainment options. So, don't wait, book your Singapore visa today to come and see the Marina Bay.

Jurong Bird Park
If you love bird-watching, this is the place for you. One of the best bird parks in the world, the Jurong Bird Park has over 8000 birds of 600 different species.The park also has a Panorail ride which takes you through the sanctuary, and mists created by the Waterfall Aviary. This is a must-see place.

Thian Hock Keng Temple
Your trip would be incomplete without a cultural sojourn. The Thian Hock Keng Temple is one of the oldest Hokkien Temples in Singapore. Built in Southern Chinese architecture style, not a single nail has been used in its construction. This heritage site has carvings of dragons and phoenixes, huge columns, and various sculptures. It's the perfect place to experience ancient culture.

Chinatown
A large part of the Singaporean population is Chinese. Chinese immigrants were one of the founding members of the country, Therefore, this whole portion of town is dedicated to them. Chinatown has the best shopping avenues, authentic Chinese restaurant & food stalls, and many more attractions. The place is always buzzing with excited tourists who soak in the culture.
Little India
Just like the Chinese, there is a large population of Indians settlers in Singapore. They have their very own cultural space called Little India. The sights, the sounds, the smells are all authentically Indian, including the Temples and Mosques. Shop, eat, and enjoy, this place is perfect to experience one of the world's most ancient cultures.

The Merlion
It would be a crime not to visit this beautiful place. The Merlion, a statue with the head of a lion and body of a fish, attracts more than a million tourists each year. It is the symbol of tourism. The views from this place are possibly the best in Singapore. Therefore, visiting this place should be mandatory on your itinerary.
Universal Studios
The first of its kind in Southeast Asia, Universal Studios is one of the most popular tourist attractions. The park has many roller coaster and water themed rides. It also has themed attractions like Lost World, New York, Ancient Egypt, Hollywood, Madagascar and Far Far Away from Shrek. If you are travelling with family, you dare not miss this place.
Singapore Flyer
165 meters high, and 150 meters in diameter, the Singapore Flyer is the world's largest observation wheel. Yes, it is bigger than the London Eye. What do you see from here? Breathtaking views of Singapore River, Marina Bay, Raffles Place, Padang, and the Empress Place. Being on the wheel will be one of your life's most thrilling experiences.
Singapore is one the world's most beautiful destinations. You simply cannot afford to miss out on the vacation of a lifetime. Buy a good holiday package, and come to be spellbound by Singapore.