Fans are the most indispensable cooling and air circulation equipments used unanimously by, both, the affluent and the not so well-off. As the mercury levels start rising and the sun starts scorching over our heads, just shedding out the layers of our clothes does not suffice; this is where fans sneak in. Using fans is economical for everyone—from the stringent rich to even the people working hard to make ends meet. Choosing the right types of fans for your homes and offices in order to cater to different purposes can be a little too confusing and harrowing, especially considering the wide variety of fans available online and in the marketplace these days—from fans that simply cause the air to move, fans that gush out air through coils to cool our homes and fans that vent out unwanted air from our homes and offices to fans that rotate about an axis, circulating air. What more? There are a lot of other features as well that you can choose from; fans, these days, come in different styles and sizes and offer different levels of portability. Discussed below are the different types of fans that you may use depending on the use they are going to be subjected to: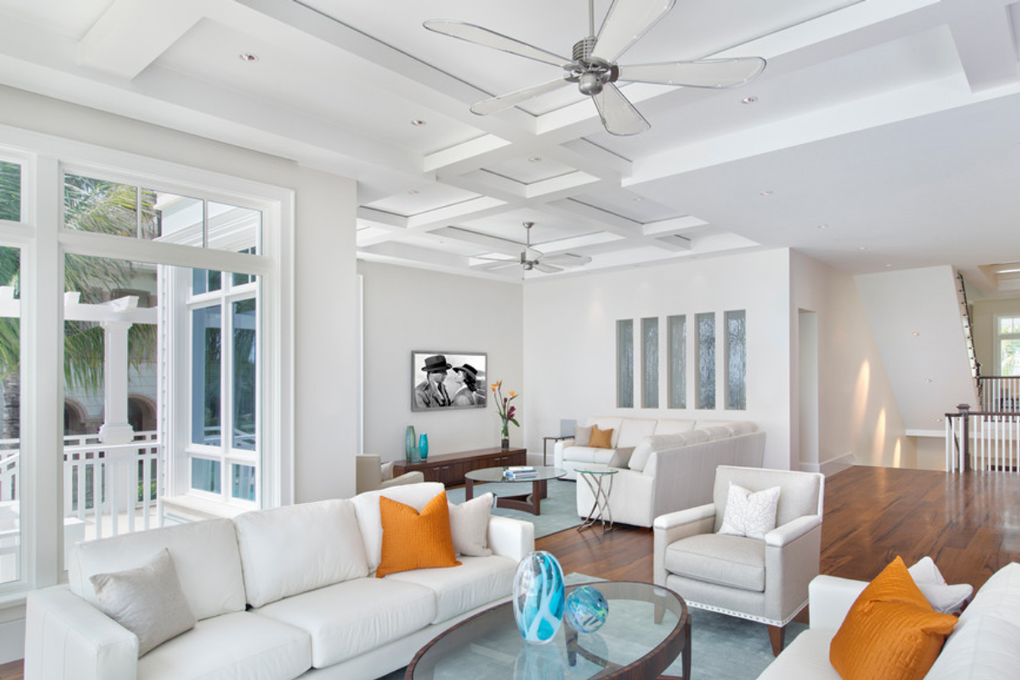 Ceiling Fans
These fans are, perhaps, the oldest types of fans and are used widely because of their effectiveness at cooling. They are attached to the ceilings by an overhanging mechanism. For optimum performance, a ceiling fan must be used in a room with its ceiling at least eight feet high; moreover, it must be hung in such a manner that its blades are anywhere between 10 inches or 12 inches below the ceiling of the room. Fans with bigger blades move more volume of air than do fans with comparatively smaller blades. If the room in which the ceiling fan is two be installed is greater than 18 feet in length, install more than one ceiling fan to ensure a uniform circulation of air throughout the room. Ceiling fans which have larger-sized blades provide comparable amount of cooling and air circulation as do fans with smaller blades; but the former rotate at lesser speeds in comparison with the speeds at which fans with smaller blades have to rotate in order to have comparable cooling effects. The rotating velocities of fans are crucial in offices and settings where papers mustn't scatter loose.
Exhaust Fans
Exhaust fans are used to rid your houses, offices and other enclosed spaces of foul smells, moisture, deposited grease and smoke. They are used in kitchens where they remove smoke and grease that result from cooking. Exhaust fans are also used in restrooms where they remove foul smells and moist air that results from showering and ablution.
Wall Fans
These fans save space as they are directly attached to walls. They are, more often than not, equipped with oscillating capabilities so as to cover a complete 180-degree range for blowing air on all people present in the room. Wall fans are generally affixed to wall with a slight tilt of 30 to 45 degrees.
Multipurpose Fans
These fans can be used for multiple purposes. Depending on the nature of the requirement, they may be used, both, outdoors and indoors with utmost ease.
Table & Pedestal Fans
Table fans are kept on tabletops. They are the best solution to applications where cooling and air circulation is required for smaller areas or, specifically, an intended person.  Pedestal fans are similar to table fans in their functioning; the only difference is that they are mounted on tall base. The height of this base can also be adjusted in some specific models.
Tower Fans
Tower fans have slender, cylindrical bodies and often come with remote controls. They are suitable for cooling smaller rooms and spaces. Equipped with the option to adjust the speed of air flow, these fans sure are a favourite among users.
Air Curtain Fans
These fans are generally installed on the entrance of buildings facing downwards so as to blow air on whoever enters the premises. The curtain-like structures of these fans prevent dust, particulate matter and other contaminants from entering the enclosed rooms or areas being cooled.
A quick glance at some of the other essential factors to be kept in mind whilst selecting fans:
Selecting the right size
Smaller rooms with larger fans may look daunting from the aesthetical perspective. Thus it is very important to select the right size of fan.
Taking into account the special features
Seemingly pricier fans often serve their own bunch of advantages; such fans produce lesser noise whilst in operation. It is always best that you check your fan for its decibel level prior to actually purchasing it; better still, hear it out in operation yourself!
Fans to match the modernised furniture
Fans, these days, come in different styles and looks. Choose the one that catches your fancy and solves your cooling requirements.
The pointers listed above will definitely give you a good idea about the kind of fan that you might need in accordance with the setting the fan is going to be used in. Just knowing the fans and weighing your options as to which one should be bought over the other is not enough; buying from renowned fan selling brands is equally, if not more, important. Some of the names to reckon with when it comes to manufacturing premium quality fans are Crompton Greaves, Bajaj, Khaitan, Action Aire, Lazer and Havells.