Choosing the perfect home for you and your family can be both a stressful and exciting process. Trying to view houses, secure a mortgage whilst trying to sell your existing property can take its toll but keeping an open mind should help. We can fixate on the perfect home, what we want and what we don't want and that's why some prospective buyers spend months, sometimes years looking for their dream home. Instead you should write down the things that are most important to you such as location and size of the plot and a list of 'would be nice' items that were negotiable. Then start your house hunt with an open mind.
Look beyond the décor
Don't be put off by someone else's taste. It's so easy to be turned off by garish décor and the vendor's wild colour schemes but these are superficial things that can be put right with a lick of paint. If the house has other features that make it a good buy then don't miss out on a potential purchase for the fact you didn't like the wall paper.
How much work can you take on?
When viewing a property, be realistic on the amount of work you can take on. You may be excited by the potential in a property that needs a bit of work but be sure you know what you are getting into. Are you ready to take on a renovation project? Do you have the skills to do it yourself or do you have the budget to hire a builder to do the work? If the answer is yes to either of those questions then really, depending on what you have to spend, you have opened up a world of possibility. By changing the layout of a property, you can create your ideal living environment. You could create larger bathrooms, reposition kitchens, add ensuites to bedrooms and extend into lofts or basements depending on the property. But bear in mind, building work rarely goes without the odd hitch and it can put a strain on the whole family, especially if you have to live in the property with the work going on around you.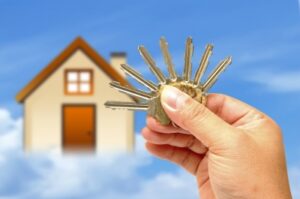 Small changes can go a long way
Sometimes small adjustments to any home can go a long way. That's why building extensions has become so popular. Whether you choose to build externally or to build within your building into the loft or basement, renovations can provide the ideal solution allowing you to stay in a home you love at the same time as improving your environment. It can be a lengthy process as most projects will need an architect and planning permission, all of which can take some time. Then employing skilled and trustworthy tradesmen can be a minefield so it's always better to get a recommendation where possible. Adding an extra room in the form of a conservatory can be a swift and easy way to gain extra space without the mess of a full building project and often without needing planning permission. Adding light and warmth to a living room or kitchen, conservatories can be used for any purpose whether a dining room, home office or children's playroom. You may need to consider adding blinds and a conservatory air conditioning and heating system to ensure you get use out of the room all year round. This addition to your house is a cost effective way to gain extra space without the hassle of moving house.
Clearing out
Getting rid of your junk can create a great deal of space, more than you can imagine. Simple filing and tidying and storing things in a more thoughtful way can free up the extra room you need. If your beds don't have drawers, think of under bed storage boxes on wheels or even storing items in living room sideboards. Also buy furniture with secret hiding spaces so that your junk is always out of the way. Stacking pretty boxes for decoration in a hallway or landing can be a nice feature with a practical slant. And simple reorganisation of your furniture can free up extra space for your home office or exercise room. Just stand back, take a long good look at what you've got and find a way to make it better and soon you will be living in your ideal home!