It's a well-known fact that technology changes rapidly in this day and age. If you operate a data center, you also know all too well that you need to upgrade your hardware and software every few years in order to keep up. Upgrading your data center components can feel like a daunting proposition due to expenses and complexity; plus, how do you know you're getting a return on your investment? It's definitely a balancing act; you'll want to find hardware and software that work together as optimally as possible to meet your needs, with a minimum of hassles and downtime to inconvenience you.
You'll also want components that are relatively easy to install and upgrade, and that your existing technology can support with few or no issues. In order to adapt to changing trends in technology, you need to define your upgrades as they relate to your specific business objectives.
In order to perform a standard data center upgrade, you often have to replace a number of components. These include (but are not limited to) processors, drives, network cards, and the operating system, ideally. By updating both the drives and the network simultaneously with components ideally suited for interoperability, you can optimize your investment in your data center's assets and boost its overall performance.
If you can optimize your data center's capabilities, you can also optimize its Virtual Machine (VM) capabilities. Without utilizing VMs, you are basically pouring money into another server station, which means another software license, more outlay in maintenance costs, higher power consumption, and another management endpoint. So VMs allow you to streamline your data center and reduce all of those costs associated with additional physical machines.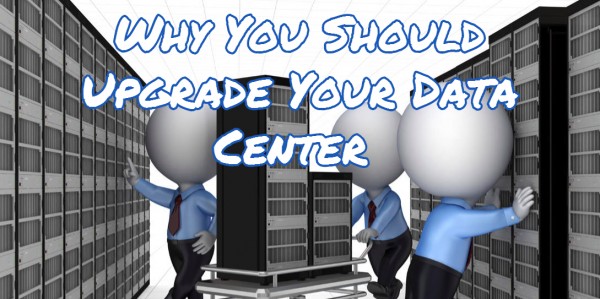 What To Do Next?
At this point, you're probably wondering if it's better to upgrade data center assets as a bundle or piecemeal. The simple answer is that upgrading assets as a bundle saves you time and money, and it makes data security more robust. Bundling asset acquisition streamlines the upgrading process, since it decreases the time and money spent on configuring and testing new components.
It also provides the certainty that all platform-connected assets are optimized, which will help you recoup your investment sooner. Plus, while it may seem more expensive to bundle upgrades all at once, a one-time outlay of money is more likely to be absorbed through over the life cycle of your assets than performing small ad-hoc upgrades would.
As an example of why it's so important to upgrade data center assets, Intel performed a study on a data center that was running older Intel Xeon ES-2670 v2 processors with an older Microsoft Windows Server. With the performance metrics in hand, the configuration was upgraded to Intel Xeon E5-2699 v3 processors and the Microsoft Windows Server 2012 R2 operating system.
Other components were upgraded at the same time, including the drive (to an Intel SSD DC S3700 series) and the network adapters (to Intel Ethernet CAN x520 Series). These improvements allowed for 67 percent more VMs. This test showed that, by changing out a few components for more modern ones that were built to be compatible with each other, assets can be bundled intelligently in order to squeeze more out of your data center investment.
So you can see the value and the benefits to upgrading your data center assets. If you're concerned your data center might be in need of upgrades, contact a professional who can help guide you through the process. They can help you find any components that are outdated, losing performance, or losing interoperability. They can also help you understand how basic upgrades to the OS, server, and adapters can impact your data center's efficiency and profitability.
Katrina is a product specialist with the leading server rack engineering and accessories company click HERE to visit the site.