New trendy fitness classes are emerging all the time. If you take a closer look you will notice that every month there are a few trendy activities that hundreds of people are trying. However, what many people have realized is that sticking to the fitness activities that have proven to be efficient is often the best way to witness the much-wanted results.
So, in case you want to improve your health, but you know where to start, our suggestion is to join a Muay Thai training camp. What is a Muay Thai camp? This is a specialized facility focused on Thai boxing or Muay Thai training located in Thailand. This is quite logical because this is where Muay Thai was born. So, you can use your holiday to travel to Thailand where you can join a camp like this.
Muay Thai training activates every muscle in the body and leaves you only a small time to rest between every set you make. You will feel the intensity, burn and sweating, but you will get beautiful legs and arms and toned abs. By moving all the time for an hour or two a day, you won't leave your body time to rest and it will be forced to burn those extra calories that make you look unattractive. The best part is that your body will keep working against these fat layers and calories even when you are not in the camp. This is the best way to exercise your mind and body. We have already mentioned some benefits of Muay Thai training, but we will now highlight the most important ones.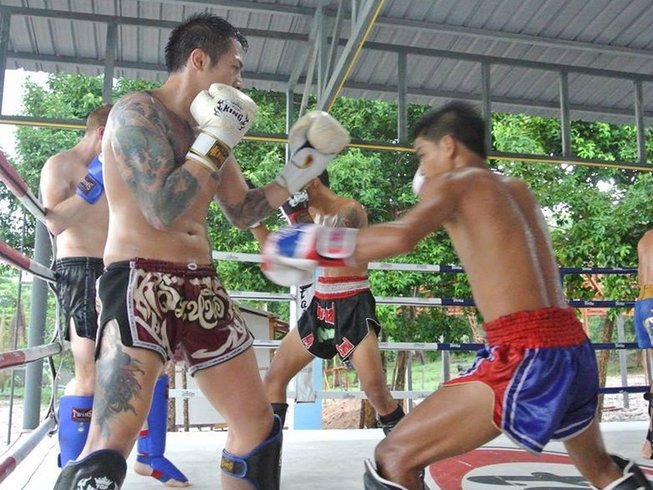 Burning calories – this is an excellent way to torch calories. You might find this training a little bit difficult in the beginning, but you will be stunned by the results. Thanks to the constant movement and rapid motions, you will be able to burn up to 700 calories in one hour. Cardio and strength training will provide a complete body workout.
Building self-confidence – When you are done with your first Muay Thai training class and you realize that your clothes are sweaty, your heart is pounding and muscles are a little bit sore, you will slowly regain energy and feel stronger than before. You will figure out that you've done it and you will want more. This is a simple way to build strong self-confidence that can help you with other aspects of your life.
Having fun – Most people start feeling sated with their daily fitness routine and this is especially true when they are using the treadmill or some of the common exercises performed in traditional gyms. With Muay Thai training you will have a chance to experience something new because it includes many different exercises that are challenging and interesting. Additionally, Muay Thai relieves stress, makes you stronger and happier and teaches you how to protect yourself.
Use the Internet to find a website of some of the popular Muay Thai for exercise in Thailand where you can read more about their Muay Thai classes and their offer.