If you have ever experienced the trauma of a flooded basement you will appreciate the importance of having an emergency plumbing service on hand.  They offer a range of services which will help you to move past the difficulties associated with water pouring into your home.
The first thing you will need to establish and which should be fairly easy to do; is the cause of the emergency.  Broadly speaking this will either be an issue with a broken, burst or otherwise damaged pipe, or, a flooding issue due to inclement weather.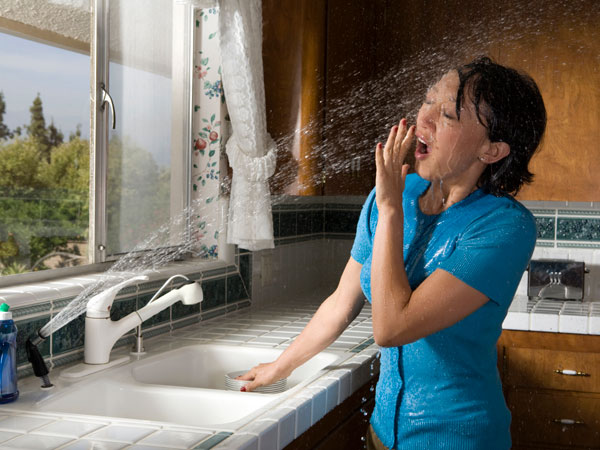 The first step to fixing this issue is calling a emergency plumbing business such as Smile Heating & Cooling.  These firms are specialists at dealing with these types of situations and can provide a prompt and effective response to your issue.
Of course, you may be tempted to resolve the issue yourself; this is certainly a more cost effective solution to the issue.  In the case of a broken or burst pipe this may be fairly straightforward; providing you know where the valve is to shut off the water.  You are likely to have several options concerning the valve; there may be a local valve which can be shut off to isolate just the offending area or you may need to shut the water off to your entire property.  You will then be able to deal with the issue of your broken pipe by removing the section and replacing it.
However, if this is not something you are experienced in you may prefer to leave it to the professionals.  A good Emergency plumbing business will repair the pipe much quicker than you can and it will be unlikely to break again, or leak when completed.  They will even be able to assess the quality of your pipe installation.
If you are dealing with an issuer as a result of flooding, an emergency plumbing firm can assist you in dealing with the aftermath.  Again, you may prefer to deal with this yourself.  However, removing the excess water is comparatively easy.  Successfully drying the floors and walls is not so easy and can take days or even weeks without the right equipment.  Indeed, this is one of the biggest reasons for choosing to use the services of an emergency plumbing firm.
An additional factor to consider is the mould that is left behind by the damp in your property.  Damp walls attracts mould which emits spores which can be seriously damaging to your health.  If you do not dry the area properly and then remove all trace of the mould and its spores then you are likely to find yourself dealing with mould for some time to come and possible suffering ill health.
A professional emergency plumbing firm will do more than provide you with a speedy and effective response.  They will be able to guarantee their work and provide you peace of mind for the future.  They will also be able to assist you in developing a plan to deal with a plumbing emergency.  Their services are invaluable!