Glamor is all about looking and feeling special in whatever you decided to wear for the day or night. This ranges from your hair to your dressing style, makeup to accessories that you selected and shoes. All this combined and the appearance becomes one that can be described as glamorous and then be assured that you have nailed the coming season's fashion trends. As spring nears, it is probably the best time to get rid of your winter fashion sense and go shopping for new fashionable items that are bound to redefine your look come spring. Here are some of the ideas that have been used to redefine glamor this season. Have a look.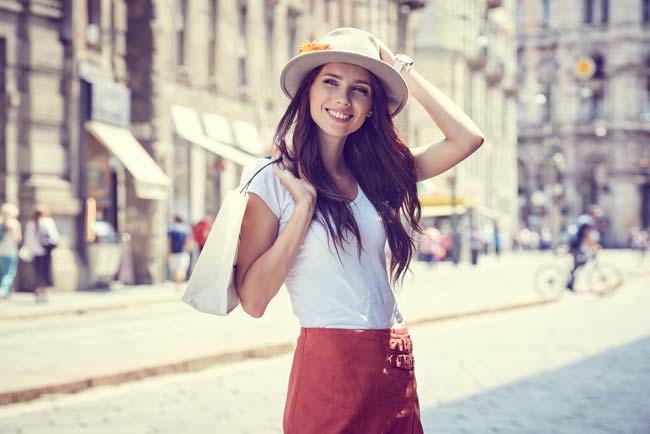 The Eighties
Mix the colors to match the eighties with superb looking or strapped shoes and unruly hair styles. The exaggerated spring 2017 fashion trends that include exaggerated dress styles to incorporate the eighties look and appearance will make do. Adding to it a few metallic materials and shine, spandex leggings and an on shoulder dressing style to match the eighties blend all of which have been showcased on the different spring fashion shows. This is a style that is expected to continue to trend to summer after spring. Furthermore, it is one of the glamorous appearances you don't want to miss.
Clash Those Fashion Colors
Classy does not have to be all monotonous with small changes in the accessories or with the shoes. You can now mix and match the colors such that they clash with each other and still appear glamorous and fun. This is a blend for those with fun and an adventurous personality when it comes to fashion. If aiming to acquire the taste that this specific look, think along the lines of colors that have absolutely nothing to do with the other if placed in the same line of vision such as blue with green, pink and bright or shouting purple and sky blue gloves among others. With this, your fashion trends and choices of outfits to suit your chosen appearance for the day is sorted and is not about to be limited to a few fashion trends or styles.
Deconstructed Shirts
Shirts have made their way to glamor and sophistication this spring. Many are delicately designed such that they fit perfectly and that the designs are illuminated illuminating your beauty, sophistication, and class. Well, it might have been thought that the trend would die, but more and more fashion designers have had the deconstructed shirts in simple, elegant and glamorous designs with spring 2017 fashion trends in mind. The designs range from off the shoulder, exaggerated sleeves, ruffles, cropped endings among others. Do not search far if looking for a statement fashion sense, with these matched with pants or simple skirt designs. You will have a look you have always dreamed off.
Slogans
Slogans sometimes express what people want, expect and are determined to achieve. Sometimes they are used by politicians, environmentalists, companies, and many others to show what they stand for. The same is to be expected in spring 2017 as the slogan designs are already there and have started showing up on the runways. If you think that slogan designs are not glamorous, then you are in for a ride as Gucci designers, Christian Dior and many others have come up with already trending slogan designs. Well as they all say, you can't keep talking all the time. It is about time that you let the dress; the tee shirt and any other design with words on it do the talking.
Stripes
Glamour is simply absent with0ut stripes designs being present. They can be sued as a replacement for florals that are best associated with summer and not spring 2017 fashion trends. This does not mean that you should not put one floral it only means that you can replace florals with stripes in spring before summer rolls in and then you can have stripes. Remember for glamor, many of the stripes designs are said to be subtle, but this is meant to embolden, get you standing out the crowds and bring all the attention to you with a hint of elegance and class.
Conclusion
Every single person has a specific idea on what fashion ideas, designs, and styles are glamorous. Every single person has a specific idea on what fashion ideas, designs, and styles are glamorous. The ideas might differ, but fashion trends have an impact that sometimes straightens our ideas, add to them and allow us to match and blend them into the desired final piece. With the above fashion trends, you can do the same and use them to develop better ideas or use them simply as they are.