My mum has been an avid traveler all her life. She defines traveling as living, achieving a sense of feeling alive. When she was in her 30s, she even contemplated turning into an air hostess as that would help her go places she never thought she could.
Although she loved traveling so much, she never traveled without elegance and sophistication. Her part time job as an image consultant made her very conscious of image presentation. I don't remember a time when she just packed her bags mindlessly and eloped to a new destination. On the contrary, she would pack thoughtfully and carry only those dresses and accessories that she thought would make her look glamorous and presentable.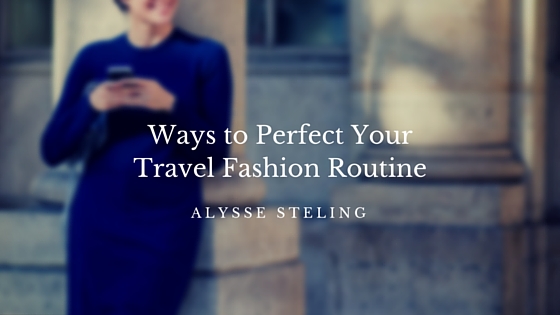 For sure, dressing down to travel was never her thing! In this article, based on my observations of her and a few others, I have listed 10 ways to perfect your travel fashion routine. Have a read to know.
Tip#1 Carry a Bright Colored Lipstick
Traveler should look glamorous, and what better way to look glamorous than by wearing a bright colored lipstick. The point is, wear a bold colored lipstick especially a red or purple lipstick when you are feeling tired and jaded. You won't understand the peculiar sense of high that you get when you put on that luscious red colored lipstick, which takes you from low to high.
Always carry that red lipstick with you in all your travels.
Tip#2 Smell Good
It is pivotal to smell fresh in all weathers. Scented oils and perfumes not only make you smell good, but they also lift your moods. In other words, fragrances help in invoking feelings and showcase individualities.
A good fragrance can boost your self-esteem and make you look attractive. Have a fascinating signature scent and carry them along in your travels. Some of us perhaps don't really invest much in buying perfumes for ourselves; however, these perfumes should become an inseparable part of our daily lives and when we are traveling.
Tip#3 Wear a Beaded Clutch Purse
Designer clutches can add texture to even the simplest of the outfit. Don't settle for simple clutches. Instead look for bold and fashionable clutch purses that turn heads. Keep in mind that your clutch purse should balance glamour and function. As per the latest Fashion Week trends, crystal clutches are stealing the show at all fashion shows worldwide. Trending crystal clutches include Swarovski-based crystal clutches, which are a must-have for all women who wish to travel with confidence and in style.
These clutches will make powerful statements for all your outfits. They can be paired with a gown or even with a simple tee and denims. Ensure that you don't settle down for cheaply made beads or crystals clutches. Have a taste and opt for handcrafted clutches made with only the best materials. This year's fashion weeks showcased the best collection of beaded clutch purses for women. Do your research and wear the most stylish and elegant clutch in your travel.
Tip#4 Don't forget the Jewelry
Stand-alone necklaces and elegant bracelets are a must for any woman traveler. Of course, don't go overboard with your jewelries while traveling as you don't want to come across as very pompous and aggressive. The rule is, keep it simple. Focus more on ear art. For instance, try wearing mismatched earrings and go for bolder shapes and longer earrings.
Tip#5 Neon-styled Sunglasses
Sunglasses can add a lot of glamour to your look. Recent trends of sunglasses favor Matrix-styled neon shaped sunglasses. Admittedly, these sunglasses do look a bit weird but who cares when they are in style.
Tip#6 Wear a Blazer
This particular tip is perhaps inspired from Hollywood celebrities. A neutral colored blazer will go perfectly well with any of your spring dresses. Colors such as white and peach are a great choice to create a spectacular spring look while traveling. Don't opt for heavy sweaters and only wear light and breathable blazers in spring.
Tip#7 No Heels Please!
My mum always traveled fashionably and one advice she invariably gave me was to never travel with heels on despite them looking so stylish when worn. Not only do they cause chronic pain in the legs and back, they also cause leg swelling.
It is strongly advisable to go for either colorful mules or Texan boots, whichever suits you and the weather. Bright colored mules were my mum's favorite when she traveled in summers. These mules are aesthetically pleasing and functionally wise especially when worn with denims or skirts.
Texan boots too add glamour when worn with the right attire!
Tip#8 Fur stoles/Scarves
Winter 2016 has given birth to fur stoles that look elegant with any matching sweater and skirt set. Darker colors are recommended as they can look stylish with all colored outfits. Besides looking elegant, fur stoles even play a pivotal role in giving warmth to the body.
A scarf is undoubtedly a great accessory for adding instant glam to your look. There are infinite ways to wear a scarf and each way has the potential to create a distinct look each time. Some wear on formal occasions and some hang it on a bag. Besides, scarves are easy in packing too. Stay creative and courageous in experimenting with different shades and styles.
Tip#9 Natural Makeup Only
It is absolutely pertinent to look fresh while traveling. Traveling for hours in a care or plane can give you beauty problems such as smudged eye makeup and dry skin. Who wouldn't hate arriving at a destination looking all tired and rough? In order to save your skin from such heavy disappointments, it is advisable carry a good moisturizer that contains natural ingredients.
I know of many beauty magazines that sell chemical-based foundations and moisturizers. Don't fall for those marketing gimmicks. Always wear makeup containing natural composition only.
Tip#10 Pick a Hat
My mum usually did not spend much time on hats; however, over the last few years, she has become such a hat person. Hats help in protecting skin from harmful UV rays and can also provide you a good cover up for clean hair. Irrefutably, hats are a functional and stylish accessory.
Fashion and Comfort!
No one wants to jeopardize their comfort for fashion and one shouldn't. Luckily, there are plenty of ways to look fashionable and stylish without compromising on comforts. When you are planning your travel fashion routine, consider the weather circumstances of your destination and the activities that you are planning for yourself.
In a nutshell, travel stylishly and comfortable, just the way my mum did!