Ayurveda, the ancient Indian health science along with rejuvenating spa treatment enhance the beauty of your vacation. Spa Ayurveda in India is a healthy escapade from the daily hassle and bustle of the city life.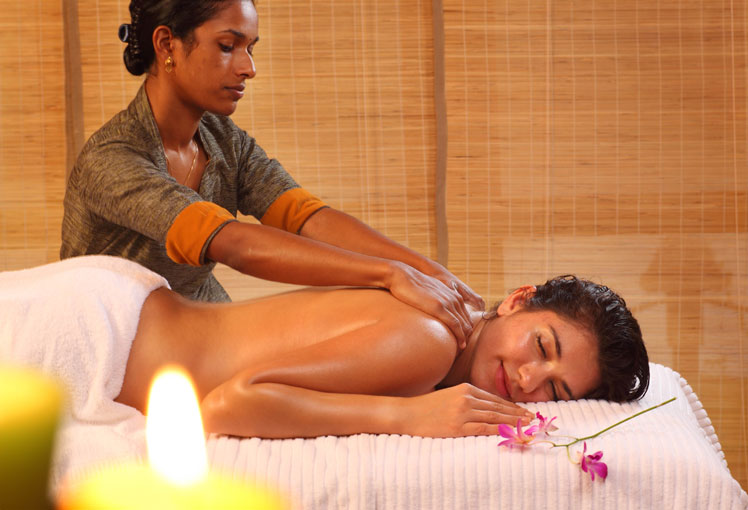 1. A Renewed Life at Kerala
Kerala with its pleasant atmosphere and ample availability of herbs and medicinal plants is a heaven for health seekers. Spa Ayurveda in India began its journey as the world's first Ayurveda resort; the Somatheeram Ayurveda resort was established here in 1985. The various Ayurveda centres for family holiday's tour in India are located at various beaches of Kerala, where you can embrace life.
Pizhichil is a unique Ayurveda massage at Kerala in which herbal oils are used and is known to cure diseases like paralysis and nervous disorders. These beach resorts also encourage mediation, yoga and naturopathy which enable a stress free life even amidst a hectic schedule. Ayurveda just do not mean personalized, soothing massages but also your first step to a renewed lifestyle. Most of the health resorts of Kerala serve only vegetarian food and do not permit alcohol or leather footwear. At evening, guests can also enjoy cultural programmes, the famous Kathakali dance and classical music at these resorts, enriching the tourists with the rich culture of Kerala.
The Vedic village resorts, Carnoustie Ayurveda & Wellness Resort, Kairali Ayurvedic Healing Village Health Resort, Kalari Kovilakom and Beach and Lake Ayurvedic Resort are some of the best Ayurveda resorts at Kerala.
2. Rediscover the Joy of Life at Uttarakhand
The serene environment of the Himalayas makes Uttarakhand a popular destination for spa Ayurveda in India. The health resorts of Uttarakhand are enveloped with peace as the holistic Ganges ripples around. Spa treatments at Uttarakhand are an amalgamation of Ayurveda and Aromatherapy. As the sun rises from behind the snow capped mountains, tourists are seen mediating and performing yoga at the separate yoga pavilions while the latter half of the day is spent unleashing oneself with hydrotherapic treatment at the spas.
Besides de-stressing, the tourists can also learn to control their age and weight naturally. The health resorts of Uttarakhand offer a simple lifestyle, where food is completely vegetarian, cooked with herbs and organic vegetables and evenings are spent at the banks of River Ganges, witnessing the blissful Ganga aarti. The Ananda, Alia, JW Marriott Mussoorie Walnut Grove Resort & Spa, The Terraces and Vishranti are some of the opulent health resorts of Uttarakhand.
3. The Quintessential Paradise of Ayurveda at Goa
As the palm trees sway to the pleasant breeze and the wild waters caresses your feet, a perfect backdrop is created to enjoy some moments of relaxation. Know a different facet of Goa at the several Ayurveda and spa resorts. As you enter a spa Ayurveda centre of Goa, a sense of congeniality evokes. The distinct ambience, signature Ayurveda treatments and experienced doctors of these Ayurveda centres are impressive and reliable; while individuals are treated externally with Ayurvedic massages, the medicine consumption cures internally. Goa has several herbal gardens which provide extensive amount of herbs for Ayurvedic treatment. Pamper yourself at the Sereno Spa, Devaaya, Cyril, Zaara and Waterwalk India health resorts of Goa.
Spa Ayurveda in India hence creates a harmony between man and nature; when abundant use of chemicals are destroying the balance of life and aggressively affecting human health, the spa Ayurveda health resorts of India defines life in a natural way using herbal oils and organic food. Hence live life to the fullest, enjoy every moment of your vacation at the spa Ayurveda centres in India.