Just like shopping, gaming is also revolutionised with the evolution of advanced development tools. Gone is the time when two players have to be on one place for playing a game together but now players can have the complete fun of gaming even if they are at distant places. The remote location is no more an obstacle to enjoying games restlessly. In addition to playing games, development has also been revolutionised due to the availability of some advanced tools.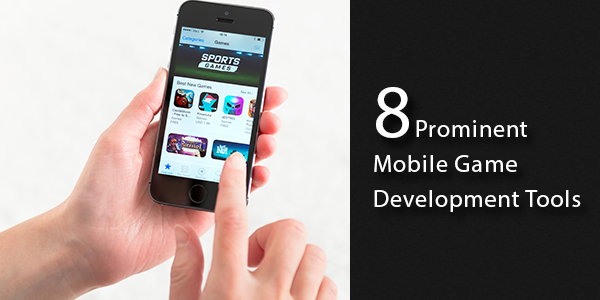 So, if you have some creative idea in your mind but don't have enough knowledge of programming languages like objective C, you can simply use the tools available to develop an outstanding and heart-winning game for the modern generation who is techno-freak.
Some of most commonly used gaming engines for specialised development are:
Unreal Engine 4: Introduced by Epic Games, this high-end engine has impacted the gaming on mobiles as well as consoles. This engine is compatible for both iOS and Android. It is one of the preferable engines for 3D mobile strategy game due to the graphical robustness it possesses.
Unity 5: One of the most commonly used engines that have a great level of accessibility along with striking production quality. It is Unity 5 that has introduced 64-bit support, physically-based shading and Geomerics' Enlighten tech. It has been used for many advanced games like Rival Kingdoms.
Marmalade: It is the development engine known to offer native performance regardless of the device it is used upon. Users can easily build their games and port them to any platform including Android, Windows 10, iOS, and more through a single codebase in C++ or any other language. To put simple, it is a cross-platform development tool that offers choice to the developers.
Stingray: It is a freshly introduced engine from Autodesk that is designed on the data-driven architecture followed in the Bitsquid engine, which is acquired by the firm in the bygone year. It is available with monthly subscription plans. This tool works with different platforms including desktop, console and mobile platforms.
MonoGame: It is open-source in nature that allows developers to customise the tools as required. Using C# and other .Net languages, this engine has continuously helped developers to port their games to mobiles. The recent development made to this engine is the eviction of XNA framework that was earlier required for using MonoGame. Acquiring such significant milestone, more freedom has been leveraged to the developers.
Corona SDK: Based on Lua coding language, Corona is now available without any charges. The SDK has a detailed API library to offer that help developers to make advanced additions ranging from networking to the animation using few lines of codes. It is compatible with multiple mobile platforms like Android, iOS, Kindle and Windows Phone.
Game Salad: The experts who introduced GameSalad make a bold claim that its tool can ease up the job of new developers- they can learn the games development basics and build their first title in merely one hour's time. It is completely unique tool comprising easy drag-and-drop interface that allow developers to design games quickly especially for Android, HTML5, Amazon Appstore and iOS.
Maya LT: It is a cost-savvy alternative for the Maya product of Autodesk's flagship. It is basically a 3D modelling and animation tool designed for the indie developers. Featuring an exclusive range of materials, texture baking and lighting functions, and the ability port the devs creations to other tools, including leading game engine, this tool serves as a great option to modern developers.
Therefore, forget about the hassles of being stuck in the lines of code and enjoy easy mobile game development with these advanced tools.