It is a dream of every person to own an abode, a retreat where he can come back after a tedious day at work, sit down and unwind. To make the environment of home soothing and stimulating, people decorate the interior of their homes with inspiring artworks and lush green indoor plants. Artwork is one of the easiest and efficient ways of adorning your home. For ages, people have been using artworks, especially paintings, to accentuate the look and feel of their living spaces. Even today, ladies in rural India hand paint elaborate motifs and themes on the outer walls of their homes and make 'rangoli'.
Artworks, be it paintings or sculptures, offer plethora of options that people can choose from. Artworks are not only a medium of expression and piece of adornment, but they make a perfect gifting option. They are beautiful and timeless. So, the next time you are looking for gifting options for your loved ones, do consider gifting paintings, especially Lord Ganesha paintings.
You will be surprised to know that Lord Ganesha paintings can be categorized depending on posture, appearances and the position of his trunk. When there is so much variation in paintings exploring the same theme and motif, then deciding and buying the right kind of painting becomes a bit difficult. Therefore, before you start looking out for paintings based on Lord Ganesha, it is important to do some homework and acquire some knowledge about different types of paintings.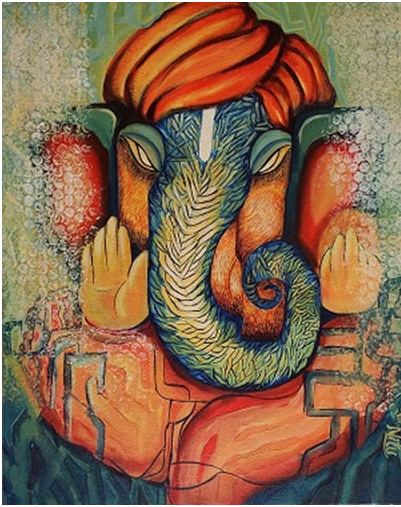 This article will help you identify and understand the significance of four types of Ganesha paintings based on posture. These four types are:
Sitting Ganesha
Standing Ganesha
Dancing Ganesha
Reclining Ganesha
The Sitting Ganesha – You must have seen paintings and idols of Lord Ganesha where he is sitting with one leg folded under his body and his other leg hangs like a pendant; this posture is called Lalitasana. This is atypical posture that you will find in most of the Ganesha paintings.Lord Ganesha in Lalitasanasymbolizes a calm and composed deity. He is meditating while being vigilant for his devotees.
The Standing Ganesha – Some paintings depict Lord Ganeshain standing position, 'Abhanga' mudra. These paintings and idols are commonly seen in the entryways or reception areas of home and offices. Lord Ganeshalooks mighty in this standing posture, which signifies firmnessand right attitude. While some paintings depict Lord Ganesha standing straight, there are others that depict a couple of bends and some with three bends in his body. These postures are called Dvibhanga and Tribhanga postures of Lord Ganesha.
Dancing Ganesha – The paintings with Ganesha in dancing pose are enthralling to look at. Lord Ganesha looks elegant in different poses depicted in this painting. These postures of Lord Ganesha are often related to 'Tandav,' the dance of destruction by Lord Shiva; that is why these paintings are a rare sight at home and offices.In some these dancing Ganesha paintings, LordGanesha is depicted dancing on a mouse, his vehicle. These paintings display the valor of the tiny mouse. Some devotees believe that it is because of the blessings of Lord Ganesha that even a tiny mouse is able to bear the heavy burden.
Reclining Ganesha – The paintings and idols of Lord Ganesha having a reclining posture are more of decorative pieces than suitable for worship. In these paintings and idols, Lord Ganesha is depicted reclining on a pillow and supporting his head with one arm. These paintings and idols signifyluxury and comfort. Though, these artifacts are common in homes, but you will not find any such reclining Ganesha paintingsor idols in the place of worship. These artifacts are very regal and royal to look at and are more of a home décor item.
This was the categorization of Lord Ganesha paintings based on posture. If you are considering buying these paintings for your home or as a gift, then keep the following points in your mind:
Buy paintings in which Lord Ganesha's trunk is turned towards left direction.
Avoid buying paintings depicting dancing Ganesha for worship. These paintings make great gifts for people with artistic bend of mind.
Paintings with creative depiction of Lord Ganesha can be as home décor items or gifts, but these are not suitable for worshipping.