While it is an open secret that every business has very sensitive data and the integrity of such data is quite important especially in regards to a company's plans and development. According to professional estimates, more than 80% of the data contained in desktop PCs and laptops in corporate companies can be classified as extremely sensitive. You cannot just start to imagine what would happen if a fraudster came across this type of information. The best course of action for any business that has reason to discard their old computers and laptops is to ensure that they engage professional data destruction companies.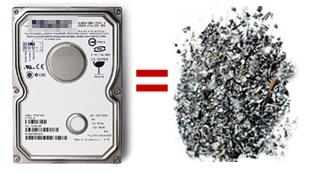 Data destruction is the only way to keep hackers away from any sensitive company data, including what you believe was deleted because it can still be restored. There are different data destruction methods that are used including:
Physical techniques: This involves generating surface deformations that are smaller than 0.001 inches on the hard disk; this is an affordable data destruction formula that some companies employ in dealing with obsolete hard disks. In addition to this, there are thermal methods through which the surface of the hard disk gest sliced in such a way that the cutting includes every single track.
Hard drive shredding: Hard drive shredding is popular among companies. Data destruction companies have industrial shredders that are very effective in destroying all data stored in computer hard disks. The circuit boards are shredded into sizes that are smaller than 0.5 0n an inch such that the flash memory is completely destroyed.
Drilling:  Hard drive drilling is another data destruction method where technicians drill holes technically on the disk platters. The drive can also be made unreadable by drilling the hard drive using a metal sheet or a masonry bit. In most cases, they make 6 to 10 holes throughout the hard drive which is usually sufficient to ensure that any data on the drive cannot be read whatsoever.
Thermal destruction: Some data destruction companies remove all data from your hard disk by heating the magnetic media so as to deform its shape. When thermal destruction is used, data is removed completely from the media files. You can always rest assured that no identify thief will every come across any form of data because smelting and incineration are done at temperatures where no one can ever retrieve that data again.
There are different date destruction companies that provide effective solutions; when hired, most of them will provide on-site hard drive shredding and give you a certificate. You only need to be careful because not all data destruction companies can be trusted; you must first ensure that a company is certified so you can be sure that all sensitive date in your obsolete computers is safe.