The temperate waters, islands, and unique reefs are part of the stunning natural endowment of Australia that has made it a diver's haven. With over 4,000 species of fish and the largest variety of sea grass in the world, Australia provides an excellent assortment of marine life. Here is a brief description of some the best diving spots where you can start exploring Australia's rich marine treasures.
Great Barrier Reef
The magnificent Great Barrier Reef (GBR) is a world-famous diving spot. Stretching for nearly 2,000 kilometres, this masterpiece along the Queensland coast, provides many excellent dive locations for both beginners and experts. In particular, the Lizard and Heron Islands offer great places to explore the northern and southern parts of the GBR. If you take a dive from the Cod Hole, off the Lizard Island, you will see feather stars, giant clams, white tip sharks and large potato cods. From the Heron Island, you can take a short ride from the jetty and choose from a variety of dive sites including the Blue Pools, Heron Bommie, and the Coral Cascades. From these sites, you can see the amazing Staghorn Coral banks, tunnels and overhangs, as well as sea creatures like turtles, octopus, parrot-fish, and wobbegong sharks.
The Wreck of SS Yongala
The shipwreck of SS Yongala was caused by a cyclone in 1911 and it led to the demise of 122 people. Subsequently, no one thought this shipwreck could ever be a source of research, joy and excitement to anyone. But after 100 years, wonderful active marine life has turned this wreck into a haven for many stunning sea creatures. Thus, this artificial reef located about 90 kilometres south-east of Townsville has become one of the top dive sites in Australia. In this bustling marine habitat, you will see various kinds of eels, clown fish, turtles, sharks, potato cods, and sea snakes. The corals are extremely bright and the fish are bustling with energy.
Fraser Island
Divers should not overlook the Fraser Island and Hervey Bay. The artificial reefs and shipwrecks located here are in great condition and they offer divers some very interesting coral reefs and creatures. With nearly 20 dive sites to explore, you can see schools of trevally, blue parrot-fish, coral trout, cod, jacks, sharks, turtles, rays and even sea snakes. At the Roy Rufus site, you can see one of the biggest artificial reefs in Australia, consisting of concrete blocks, car bodies and old ships. This reef was first established in 1968 and today it is bustling with life with up to six distinct sites. Other interesting dive sites around the island include the Moon Ledge with a few caves and many schools of cod and the Cochrane reef that contains an aircraft wreck which is a few hours drive from Hervey Bay.
Kangaroo Island
The renowned Kangaroo Island is located about 100 km south-west of Adelaide. It has cooler waters that provide a different kind of marine life including the greatest population of leafy sea dragons which can only be found in the south-western part of Australia. In addition, you will be able to see different shipwrecks and many sea creatures like blue devils, boarfish, truncate coralfish, harlequins, New Zealand fur seals and the entertaining Australian sea lions. Sea lions are curious and playful creatures akin to puppies. But the main attraction for divers on Kangaroo Island is the leafy sea dragon which is closely related to the sea horse. These creatures are extremely shy and they camouflage themselves when you come close to them. To carefully observe these creatures, you may need the assistance of dive guides who can find them with ease.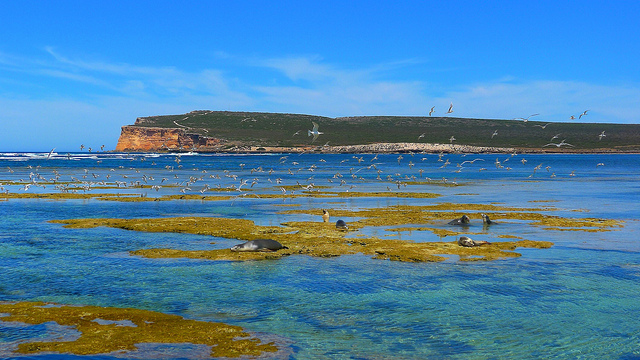 Baird Bay
The tranquil Baird Bay situated on the Eyre Peninsula is a famous dive site. From here, you can swim or snorkel with playful dolphins and sea lions. This is one of the few locations in the southern part of Australia with a very large population of sea lions. At close range, you can watch both parents and puppies playing and somersaulting. Some of them may even nudge you and invite you to join them while they play. If you dive in deeper, you can also find pods of fun loving bottle-nosed dolphins. Not far from the Baird Bay, at Port Lincoln, you can swim with tuna and cuttlefish and if you are more daring, you can cage-dive and watch great white sharks.
Conclusion
Australia is naturally endowed with a huge number of popular diving spots. But if you are exploring the unique marine life in the sea around this great country for the first time, you can start with the places highlighted above. You will see all the features and creatures described and many other interesting aspects of Australian marine life.