Leggings & jeggings have never been in vogue so much as they are now! They have this innate ability to turn anything mundane to something very interesting & trendy. This is true for the printed leggings which has the power to turn any ensemble into a quirky style statement. Prints in floral patterns are the most opted for by designers, also animal prints and prints in bold checks; polka dots and intricate motifs are catching up. Any simple dress or short mini skirt teamed with a printed legging is sure to make you look different and stand out in the crowd. If you want the bohemian traditionalist look, leggings in bage hued prints and ombre palettes will be the best ones to go for. For the ballet dancers body hugging leggings are more comfortable than the sticky tight stockings. A lot of dancers are now opting for grey leggings and others with different colours & prints to give their look a new twist.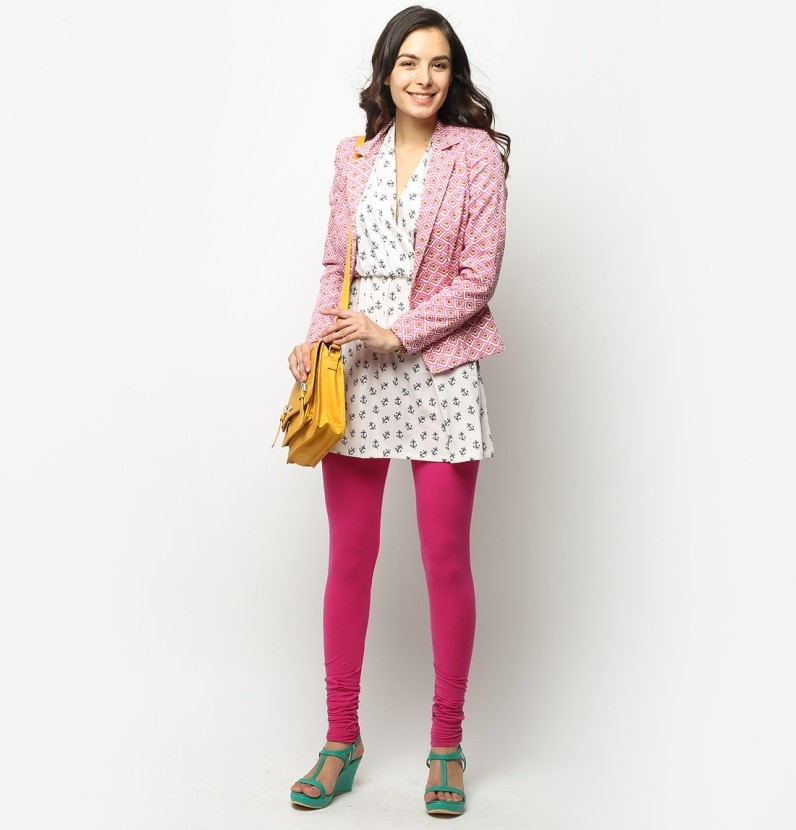 For our own set of kurtas &anarkalis and traditional Indian suits;most women prefer to wear leggings rather than churidars&salwars. Now who has the time to tie those knots when one can instantly slip into the elastic ones with so much ease! Well each one of us is sure to have the 'story with the knots' sometime or the other. Remember when you are in a middle of a party, function or an important meeting and while taking a loo break you are all messed up with the strings of the churidars which just don't want to detangle? The knots can be complex sometimes & when in a rush it is irritating to open & tie them again even though our moms & granny's still prefer those saying they are much more comfortable than the modern elastic leggings. But we the millennials must have surely blessed the inventor & marketer of the leggings- it left us hassle free still giving the same look! Happy alas; we all decided to stock our cupboards with leggings of all colours- from the vibrant hues to the fluorescent ones, all have become such a necessity. It is not only the Indian ethnic wear but also the skirts and mini dresses which go extremely well with leggings, giving our whole look an eccentric mash up!
Also recommended by top fashionistas are the chic & classy jeggings. These body hugging pant-type bottoms wear show your body shape perfectly, giving a slender, sleek & cool look. Not to worry, you will find the collection you are looking for at the American Swan website providing an array of women leggings & jeggings online. Also on offer our top quality pure cotton leggings&tops forwomen at affordable prices. So jazz up this festive season with leggings of different kinds & shades, be the star attraction in every party, give you ensemble a new look with leggings & jeggings. Online shopping for leggings is so much convenient & fun! Order today & Relax!