Occupational therapy is therapy that helps patients develop skills or help them recover so that they can resume daily activities such as self-care, independent living, work and leisure activities.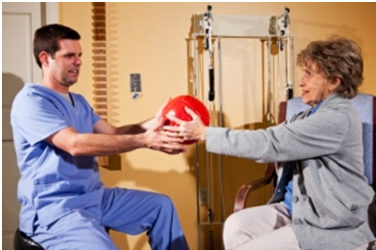 Who needs Occupational therapy?
Those who need occupational therapy are people who suffer from autism, those who have had strokes and people who are recovering from surgeries like a hip replacement. Others who need occupational therapy are men and women who are recovering from depression or anxiety, veterans and the elderly.
How does Occupational therapy help?
Keep in mind; occupational therapy focuses not only on the body but also the mind. Physical therapy focuses on the body's ability and strength to move; however, occupational therapy focuses on a person's overall function.
What kind of environments do Occupational therapists work in?
Occupational therapists work in various environments. Statistics show that about half are employed by hospitals or are in medical fields that are dedicated to occupational therapy. Other occupational therapists work in schools, nursing homes and for home-health services. In addition, occupational therapists work with people who have had traumatic brain injuries. He or she may also help military veterans who have been hurt by explosive devices, so that they can regain their thinking facilities.
Or, they may take a brain-injured person to a crowded mall and help them find ways to cope with situations that are overwhelming and frustrating. In addition, there are occupational therapists who work individually with seniors and those who work in hospice facilities. Find out about Occupational therapy Suitland Maryland, today and the services they provide!
What are the advantages of Occupational therapy?
There are many advantages in undergoing occupational therapy such as patients having a better understanding of their condition. With this kind of therapy, a patient will be informed about the risks and advantages of their condition. For example, if a person is overweight, he or she will understand that by losing weight and undergoing OT, he or she can lessen stress that is put on their legs, joints and back.
Another benefit is enhancing a patient's physical and mental health. Some may not know it, but occupational therapy can enhance a person's physical and mental health simply by applying occupational therapy methods. In addition, by applying ice packs or heating pads, during occupational therapy, a patient can find relief from inflammation and joint pain.
To conclude, there are many reasons why a person needs occupational therapy such as those who have suffered from a traumatic brain injury, stroke or those recovering from surgery. Find out more about this topic from your doctor or other healthcare provider.