Pressure sores – sometimes called bedsores – are, as the name suggests, most usually caused when an area of skin is put under undue pressure, for example when someone is immobile and left sitting or lying in the same position for too long.
People who are forced to become bedridden after surgery, those with severe disabilities, wheelchair users and the elderly are some of the groups most at risk from developing such sores, and therefore health providers and care-givers are those tasked with helping to prevent the ulcers developing in the first place.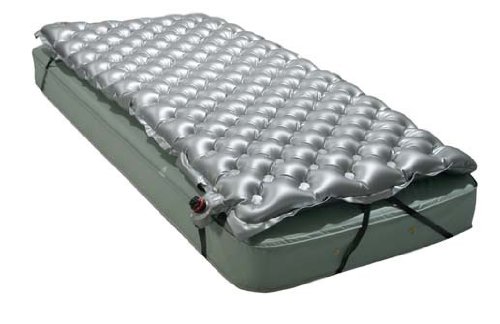 Levels of Risk
Health professionals and carers must assess each of their patients and clients to determine their individual level of risk of developing pressure sores.
There are several different methods of doing this, but once a risk level has been ascertained the care-giver can ensure they follow the appropriate procedure to ensure their patient or client is put at minimal risk.
The Importance of the Mattress
Aside from ensuring patients and clients do not spend too much time in the same position, care-givers and nurses must also make sure their charges are not lying on a mattress which could increase their risk.
Thankfully, there are many different mattresses now available which provide different levels of protection against bedsores, depending on the level of risk expected.
Those at low risk of developing pressure sores – for example, elderly people who are still mostly mobile in their everyday lives – can be safely provided with a foam mattress. There are different types available which help support people with certain conditions, for instance arthritis.
Those with a higher risk of getting bedsores must, of course, receive more intensive prevention techniques.
Air Mattresses
Technologically advanced in order to offer the ultimate in pressure sore prevention, specially-designed air mattresses come in a wide range to provide different levels of care.
All of them contain a number of air pockets which inflate at intervals via a pump, thereby creating a moving mattress which eases the pressure on every part of the person's body throughout the day or night. This in turn means there is less need to disturb the sleeper for a regular 'turn-over'.
Using a Solace pressure relief air mattress in your nursing home or care home will mean less time spent turning clients over in bed, and more time giving them better care and attention. With an air mattress, not only is the client comfier and better protected, but the staff can provide them with a better service.
Sleep Soundly
For those at a certain, high risk of developing pressure sores, an air mattress is undoubtedly the best solution. So whether you're in charge of a nursing home or are a healthcare manager ordering new mattresses for your wards, a Solace pressure relief air mattress offers the highest level of protection for those using your services. After all, you can't put a price on comfort, reliability and peace of mind.