The Rooftop restaurant is amidst the hottest trend, which is quite famous from last few years in the hospitality industry. But some of the real estate companies are introducing this concept in their commercial projects. A rooftop restaurant, rooftop bar and rooftop cafe add a sense of glamour and sophistication to any place, whether it is a hotel, lounge or even a commercial building. A line of trendy bars, lounges, clubs and restaurants are designed to add elegance to a working place where employees can sit, enjoy and party with the colleagues, friends and family members too. The Rooftop restaurant is a hot trend and so is quite popular that not only serve a person well with foods, drinks and snacks but also allow them a picturesque view of a surrounding, under a open sky. Krasa is all set to introduce  the rooftop restaurant concept in their upcoming commercial venture, which is one of the attractions of this business park.
The rooftop restaurant in the Centrade Business Park is a multi-cuisine restaurant that offers a comprehensive variety of food. While in this building, you can enjoy your favorite with breathtaking views of the surrounding. The Rooftop restaurant is a fusion of inspiring views, terrace garden and mouthwatering food. The menu includes all the Indian, Chinese, Thai, Italian, Continental and a lot more international cuisines along with cocktails, mocktails, wines, etc. to soothe your sense. Celebrate your engagement, anniversary, and any other special occasion in the elegant atmosphere of The Roof Restaurant.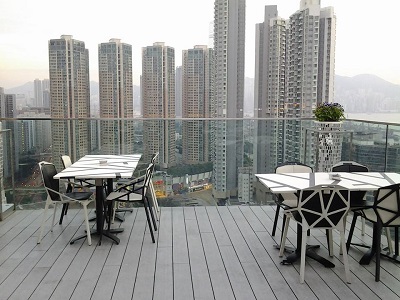 The Rooftop Restaurants  & Food Courts in Centrade have a comfy high sitting facility with dimension varying from 350 sq. ft, 5500 sq. ft. and 700 sq. ft. The Rooftop concept is not limited to the restaurant, bars or lounges, there are rooftop gardens & terrace where you will find a lot of reasons to relax at the end of the day. Apart from the Rooftop restaurants, sky lounge and bar, there is a plethora of Roof Top Recreational Amenities avaialble, which comprise of Sky Volleyball Courts, Billiards, Snooker's & Pool, Cricket pitch, Sky Tennis, Swimming Pools, Rooftop Basketball Court and many more. The clubhouse is engineered so that you can indulge, rejuvenate or revive after a tiring day.
Benefits of having a Rooftop Restaurant in a workplace:
1] The Rooftop Restaurant offers employees a better a way to rejuvenate and relax.
2] The Rooftop restaurant concept is highly economical eating option from the point of developers and employees too.
3] The openness and the ambience a rooftop restaurant creates, is matchless in terms of everything.
4] The Rooftop restaurant fills the entire surrounding with a positive effects.
5] The Rooftop bars offers tasty candy-coloured drinks, flavoursome, imaginative drinks, etc.
6] The Rooftop restaurant offers a pleasing interior decor, comfortable seating arrangements, and background music that will not disrupt your conversation.
7] Rooftop Restaurant, Rooftop Bars, Rooftop Lounge, Rooftop Terrace, Rooftop Garden and other rooftop concepts have ability to create an astonishing effect on the office environment, the work growth and the company's success.