Most of the golf courses in Texas are extremely inviting with open, wide areas and sprawling greens. You will find tall trees and large water bodies to add to the beauty of these courses. However, golf links in the state may become an unsafe place to swing or putt during a lightning or thunderstorm. That's because golfers play the game using metal golf clubs and use golf carts. Statistics show that Texas ranks second-highest when it comes to lightning-related accidents. Such accidents have occurred from 1959 to 2013. According to the U.S. National Oceanic Administration study, the game of golf accounted for four percent of fatalities caused by lightning. It's only wise that you take some precautionary measures. Keep the following four tips in mind the next time you find yourself out there during lightning.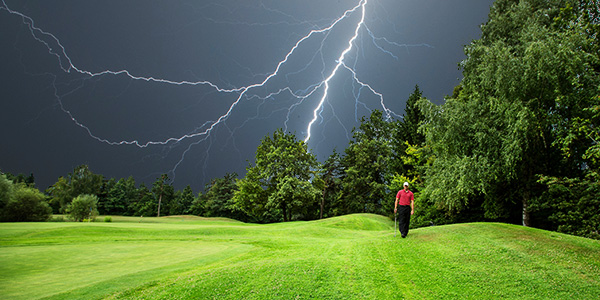 Stay Away from Open Grounds and Tall Trees
Avoid playing in a high, open area when lightning strikes. Move to a low-lying area such as a valley or ravine. In case you experience a tingling feeling, sit on your heels, just like a baseball catcher. The idea is to crouch or bend down to stay protected from lightning. If you are in a group, make sure that you maintain a distance of 15 feet from each other.
When caught in a lightning in one of the golf courses in Texas, avoid standing under a tall, isolated tree. That's because accidents under trees are as high as 13 percent. Such spots prove more dangerous and are prone to lightning-related injuries or deaths. When you feel a storm is approaching, avoid moving around high grounds on the course, open fields, flagpoles, communication towers and golf carts. If you see lightning and hear thunder frequently, i.e. in less than half a second, be prudent to head for the clubhouse.
Avoid Staying Close to Water Bodies
Many resort-style golf clubs in Texas have swimming pools or boating facilities. At all cost, you must avoid water bodies during lightning or thunder because eight percent fatalities occur around water bodies such as lakes, ponds or pools. Remember that people who are on the golf course are still safe as they can seek shelter in the clubhouse or nearest building. However, if you are in a boat, you are extremely vulnerable as you have no place to take shelter. Avoid hitting the pool if you hear thunder sounds. Water is a good conductor of electricity and swimming in such conditions is a dangerous idea.
Know Some Lightning Facts
When you are playing in an open area such as a golf course, it's better to keep yourself updated with some lightning-related facts. Here are some of them:
Lightning frequently occurs in the absence of heavy downpours. It may strike 10 miles away from a place where there have been a heavy rainfall.
Lightning accidents happen mostly during the afternoon or evening, and during the summer months. It occurs generally between 2.00pm and 6.00pm.
Contrary to popular belief a lightning-struck person carry no post-strike electrical charge and should be treated without any delay.
When lightning strikes the ground it has the ability to produce 100 million or one billion volts of electrical energy.
The length of lightning (cloud to ground) can vary from two to 10 miles.
Avoid Carrying Metals
Golfers should avoid wearing shoes having metal spikes when lightning strikes or a distant thunder is heard. By wearing them, you may get your feet charred. Even carrying umbrellas with metallic handles can prove fatal.
When you are enjoying at one of the golf courses in Texas, follow the safety precautions and avoid accidents. Though lightning injuries are rare incidents, it's always better to be safe than sorry.