Indian food is well known for its spices and flavour. Every spice has its individual flavour and all blend well together to give the aromatic smell and rich taste. Indian cooking is the healthiest when prepared with minimal oil. It is rich in nutrients, has good texture and tastes superb. It does no harm to digestive system, and improves immunity.
Why Indian Food is not felt as Healthy Choice?
Many people think that Indian food lacks nutrients as the curries are made with ghee or cream. Excess amount of oil is added to give that exclusive taste.
The Indian dishes add to calories in your body resulting in weight gain.
Many food items are made of white or gram flour, which is not easily digestible.
All these are not true. There are many food options in the Indian cuisine, which are known for its taste as well as good for health.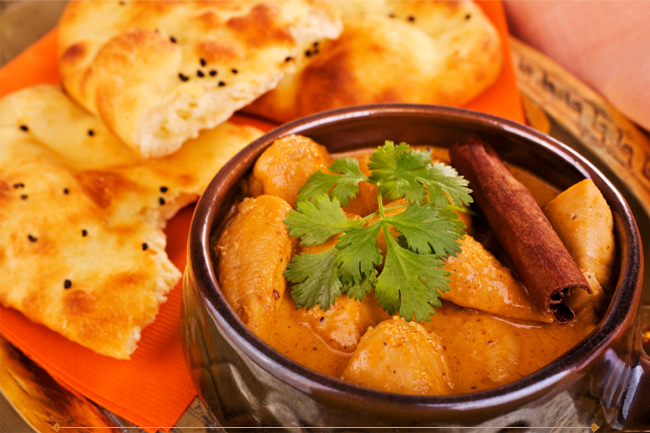 Few of the Healthy Food Items Are:
Rotis or chappatis: These are made of wheat flour, and are popularly known as Indian bread. They are an important part of country's staple diet. This bread is smaller in size and very nutritious. You can eat it with any kind of curries and dal. They are rich in fibre, as most of them are cooked over direct fire. It is one of the best weight loss solutions.
Dal: It is kind of soup or thin curry made of various pulses and cereals. It is good source of vitamins and proteins. If you want to have dietary food, moong dal is the best option, and will help you stay slim and trim. Dals help you to lower high blood cholesterol, and they are easily digestible. Mostly eaten with roti and cooked rice.
Paneer: Usually paneer bought from market is rich in calories. It should be included in diet as it is well known for its nutrition value. To avoid the surplus amount of calories, you can make it at home by using toned milk. Paneer helps in avoiding osteoporosis, as it is rich in calcium
Curd: Curd is the main part of the Indian cuisine. It is specially used in thickening curries as well as preparing a side dish. It helps in reducing weight and promotes digestion power. You can make it from toned or low fat milk.
Steamed food: Idlis, dhokla and kahndavi are a few of the healthiest steamed food items, which can satisfy your taste buds any time. They can be included in your breakfast, in order to stay energetic throughout the day.
Tips to Enjoy Healthy Food in Indian Restaurant:
Order salad for your first course. The vegetables used for dressing have high nutritional value and good for your stomach.
Instead of Naan, which are made of white flour, choose rotis to be served for the main course. Tell them not to add any butter over them.
Select tandoori food items. These are grilled directly on fire, and thus are low in calories and they taste great.
Instead of white cooked rice, you can opt for brown rice, which is much more healthy and tasty.
There are many best Indian restaurants in London, where you can relish healthy and spicy cuisine to pamper your taste buds.