Even though there are hundreds if not thousands of shelving manufacturers and a plethora of shelving variations, there are really only three main types of industrial steel shelving on the market. Most shelving is derived from the three main types; wire, steel clip and rivet type. The advantages and disadvantages of each type of shelving are unique to each specific industry they are being used in. It is up each warehouse / business owner to decide what's best for their specific needs.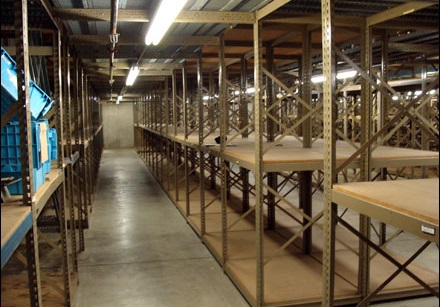 Rivet Shelving
This type of shelving is fast to assemble, strong and versatile. It offers approximately 1,900 pounds capacity per shelf, stability and easy access. Rivet shelving is constructed using decking to hold the load and has a solid steel frame.
Advantages:
Easy to install
Most economical of the three
Provides largest size ranges
Has the highest capacities
Disadvantages:
It is not easy on the eyes
Quite heavy
Not as many customizable options in comparison to the other two
Steel Shelving
Steel shelving may be utilized in different applications such as tool cribs, offices, warehouses and so forth. It is commonly used for high-density applications such as under-mezzanine storage. Sway and back braces are used to steady the shelving unit and it is available in closed and open style.
Advantages:
Compression clips increase adjustability
Most accessorizable and customizable shelving type. There are modular drawer inserts, multiple types of dividers and built-in bin fronts
When compared to wire or rivet shelving, it is better in high-density applications as the shelves can be installed very close together
Can be installed in office settings without looking out of place
For decorative applications, it is available in different colors. Some of the colors may cost more than traditional grays and tans
Disadvantages:
Metal shelving becomes more expensive when you take full advantage of the flexibility it has. Any cool accessory will increase the cost
It is more challenging to install when compared to other shelving types. Braces need hardware and shelves need clips. Although it is not very difficult, it is more harder to install than wire shelving and rivet shelving
Converting it to mobile storage is impossible. This can only be done by using rivet or wire shelving
Wire Shelving
Used in 'clean' or commercial applications, wire shelving is considered to be the most attractive of the three. It has open construction, like rivet style, free of back and side sway braces. Therefore, accessing the shelf can be done from all four sides. It is best used in applications where more industrial type shelving does not seem to fit.
Advantages
Easily mounts on casters for mobility
Wire is attractive clean and gleaming
Can serve in wet, wash-down or food applications
Open construction
Very adjustable
Plenty of specialty configurations to choose from
Excellent to run in corner, right-angle or straight applications
Disadvantages
More expensive than rivet, and usually, metal shelving
Does not offer variations found on rivet shelving
Shelf capacity ranges are not as broad as rivet and steel shelving
People in different industries will need to have at least one type of shelving installed. For them to get the best type of shelving for their particular industry, they must have knowledge on the different types available as well as the benefits of each. Without this information, they are likely to make the wrong decision. Knowing the advantages and disadvantages of each type of shelving, together with their applications can assist in making the best choice.