Proposing to your loved one is a huge and life changing event. Even though many will tell you that it is the thought that counts, choosing the right location for the big event can make the whole experience more memorable and unique. Get your passport ready as we take you to the top proposal destinations.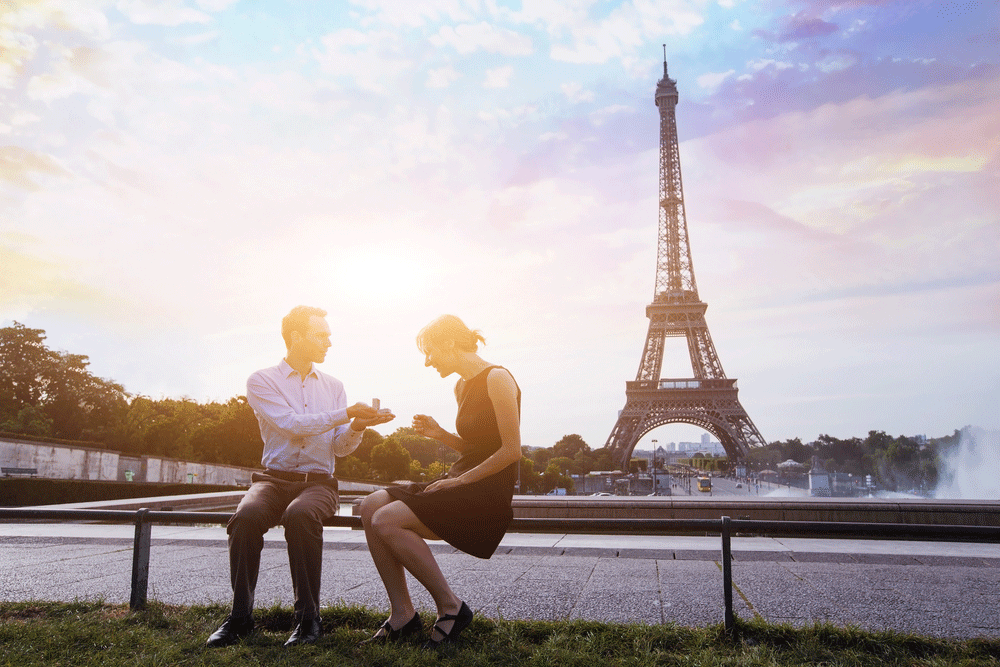 Midnight in Paris

Paris is one of the most romantic destinations in the world. If you wish your proposal to be perfect, then the city of light is the ideal solution. Why Paris? In addition to famous buildings, parks and avenues, there are places that can make your engagement unforgettable. Some of the most romantic places are the Eiffel Tower and Bridges on the Seine, one of them called "The Bridge of Love". All you need now is a ring.
Colourful Morocco
From the Sahara dunes to the peaks of the Atlas Mountains, Morocco is like a tailor-made proposal destination. Lyrical landscapes paint this part of North Africa, just as richly colored and designed as traditional colorful Moroccan rugs. Imagine a starry night, rocky desert and breathtaking architecture. How could she say no, or he for that matter?
The passion of Alhambra
Andalusia is a place of coexisting contrasts. With its unique and exotic mix of traditional Spanish, Moorish and Jewish culture with Arabic and African flavors, it is truly unique. Andalusia is known as the home of flamenco, guitar, corida, Pablo Picasso and Don Juan. It beguiles you with its beauty and mysticism; the passion and sensual smells and sights while walking the streets will satisfy your hedonism and definitely help you get down on one knee. You may find good deal on the web when it comes to romantic hotels with a beautiful sea view.
All roads lead to Rome
The capital of Italy, which is still called the eternal city, is one of the most visited cities in the world. Rome is also considered the most romantic place in Italy. Some of the most popular places are Fontana di Trevi, Spanish Steps, Colosseum. Rome exudes an air of antiquity and mystery no one can deny. Take your loved one on a tour from The Basilica di Santa Maria Maggiore, over Spanish Steps and Fountain di Trevi to Colosseum and make your proposal. Do not forget to toss a coin into the Fountain – legend says that if you do, you will get back to Rome with a loved one.
Romantic Verona
A city that is also called "The City of Romance" might be the perfect place for your significant other to say YES! It is known by this name because Shakespeare's "Romeo and Juliet" took place in this vivid city. Verona is a romance catalyst, and there are numerous places considered "lucky" for that special moment in your life. Perhaps the best choice would be Julia's house, where her famous balcony is located. Once your special someone says yes, do not forget to write your names on a piece of paper and stick it to the wall – legend says that this way your love will last forever.