Exploring Ninety Mile Beach and its Sand Dunes:
Forget about waves and go towards the dunes! Golden sand stretching in thousands of miles and the humid coast in the North makes this country rich in natural resources. Whatever the country is, while selecting the run, every boarder is really spoilt on your own choice. Go through these sand dunes till the height. Adventure this desert either by laying down on board or fly down the hillside.
The visit to the beach is really full exhilarating fun and the interesting thing is that it's free.
Auckland Bridge Climb:
Did you imagined the most terrifying thing in New Zealand will be transporting through the most terrifying bridge. This escorting bridge is linkage of the Auckland's North Shore. Remember! Hire a personal tour guide to escort you over as well as bring you back too. Ease while crossing this bridge is at its peak as while building it was kept in mind that every age group of people can easily enjoy. Breathe taking sights while passing over the Rangitoto Island and then harboring there for the remaining time will defiantly please you. Caution! People suffering from height phobia must follow precautionary measures, this whole journey is comprised of 1 ½ hour, may be not for you.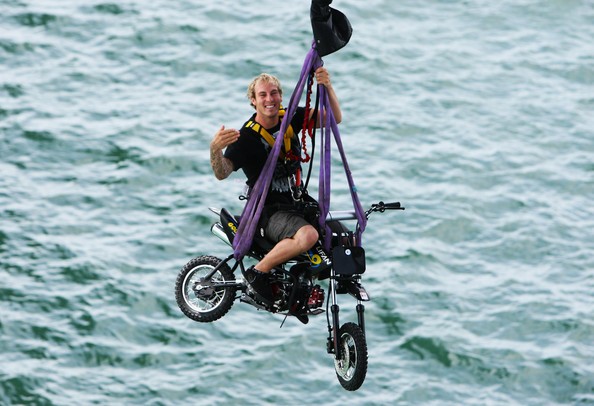 Walking on the Sky in Auckland, Sky Tower:
In the NZ's most heighted building there lies an iconic Sky Tower that lingers on. Bungy is a style statement where many celebrities jumper's visit in past with. This walk is of 192m and not an ordinary walk, it's a Skywalk. Height phobia people should squirm simply by only looking it in photos or other people walking.

Waitomo Subterranean Caves:
Adventure, Adventure, Adventure! Just think about the climbing, abseiling and cave tubing with the water stream passage along natural dim light of millions of little glittering glow worms. Waitomo Caves is well known for beautiful rock formations and several subterranean tunnels. An imaginary playground for cavers and abseilers. The more to fulfill your quench is the dark water rafting in the terrifying dark.
Zorbing at Rotorua:
The sulphuric stretches of the city Rotorua is one of the most claimed tourist destination of New Zealand.
If Need for speed in real life questions you the answer will be Zorb. You will be enclosed in a large transparent inflated plastic ball and it will hop from the top down the hill with the approx. speed of 50km per hour. Good friend's company will make this tour more mesmerizing.
Taupo's Sky Diving:
Do you imagine that you will jump from the plane and not die? This is possible with the most horrifying experience of throwing yourself from the plane and then Taupo is your final destination there. Company's funky plane will give you chance and place from where you jump and you can easily choose the height from where you can jump either from a 12,000 or 15,000 feet. Not do something like closing your eyes, look down towards the earth and enjoy the real height. Take pictures from 360 degree sights, scenes of the central plateau, aquatic blue Lake Taupo and close places like Mt Ruapehu and Mt Ngauruhoe. These views will defiantly make you jump through them!
Skating the Glacier of the Southern Alps:
A most beautiful frozen hiking and skating, although somewhat terrifying but a real treat for adventure lovers. A real river which transformed into a white glittering snow for thousands of decades I not a cup of tea for everyone. But if you hike, I assure you will have unforgettable memories. These Southern Alps grants you with several glaciers assembled with hiking opportunities. But the most accessible in all of them is Fox Glacier, almost 13km long. A professional tour guides will give you the proper shoes, walking poles and a guided tour your adventurous expedition. Get ready for the 300m deep hike!
Author's Bio data:
Katherine Heigl
 MSc (Hons.)
Professional Summary:
Serving as a Content Writer in Air Bridge Travels from last two months (http://www.airbridgetravel.com/)
Involved in Internet based research on numerous topics on "Travel".
Expert in writing Travel guides.
Strong Writing skills with excellent command on English language.
Willing to learn new S.E.O technologies and ready to take challenges.