Most of the video software that you encounter will tend to be focused on either recording videos or editing videos. In other words, to create an attractive and professional-looking video you will find that you need two separate software – and that can cause unnecessary complications.
Rather than going down that route, don't you think it would be much more convenient to have one software that could give you everything you need to make a video? That is precisely what Movavi Video Suite is designed for – and it won't disappoint on that front.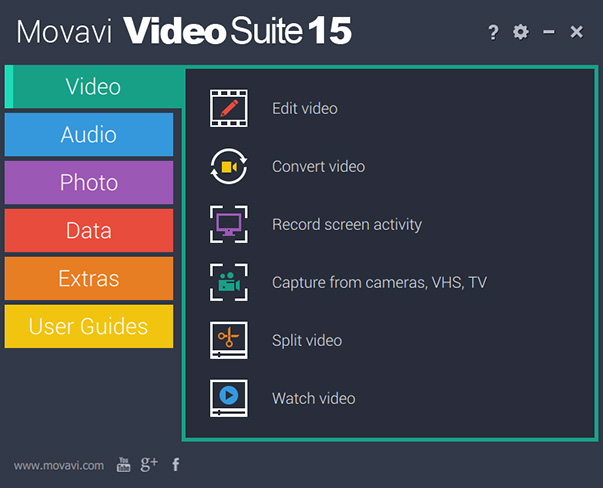 Choose Between Recording or Using Videos From Any Source
Right from the start the flexibility of Movavi Video Suite is pretty apparent – as it allows you to either record or utilize video from any source whatsoever. If you're recording footage from scratch, you can opt to do so via a webcam or by capturing it directly off your screen.
On the other hand if you already have video footage that you want to use then you could transfer it over from a digital camera or camcorder, digitize VHS tapes, or simply load it from a video file. Another nice little alternative that Movavi Video Suite also provides for is the ability to create video slideshows using any images instead.
Edit and Improve the Video
Once you have the raw footage ready, you can then bring the full force of Movavi Video Suite's editing features to bear. It really does pull no punches in terms of the features that it offers, allowing you to:
Enhance the video quality to improve its overall appearance or fix common issues such as shaky or blurry segments.
Cut and combine video segments to remove unwanted parts or merge clips together as required.
Apply stunning visual special effects and filters to transform the style and appearance of your videos.
Link scenes in your video together seamlessly with stylish animated transitions.
Add audio tracks to include background music or voiceovers and fully control the audio levels.
Insert text that can be tweaked to create unique-looking captions, watermarks or titles.
While these are just a small part of the features that Movavi Video Suite brings to the table, you should already start to see how it can help you to improve your videos. By the time you're done applying its features, your video should really look as though it was professionally produced.
It won't take long for you to fully familiarize yourself with Movavi Video Suite, and once you do there's really no limit on what you can achieve. No matter whether you intend to create short and fun clips, or lengthy home movies – it is perfect for any and all situations.