So you think you're a coffee fan? Well, that may be so. But if you're just dropping five bucks at the coffee shop regularly, you may not be quite the coffee snob that you think you are. Coffee experts aren't content to let others handle the brewing and creation of coffee masterpieces for them.
So consider this the beginning of your coffee education! Below, we'll lay out the basics of how to make coffee and what you need to know about the massively popular drink. More importantly, we'll tell you how to take your coffee education into your own hands. Are you ready?
All about coffee
To be a true coffee fanatic, you'll want to understand more about how coffee works and how the best coffee drinks are brewed and prepared.
Coffee is one of the world's most popular beverages, and it's particularly popular in the United States, which ranks among the most coffee-crazed countries in the world (we aren't number one, though — that honor goes to Finland). It's a beverage with a long history. Nobody is sure when humans first started brewing coffee, but its popularity has grown over time. It has displaced tea in many parts of the world, and Europeans love their coffee too.
Coffee can be served in all sorts of ways. Espresso is a very strong form of coffee that tends to be consumed in small quantities, or as part of larger drinks with other ingredients. American coffee, like coffee in other nearby countries like Canada, tends to be a little less caffeinated but served in larger volumes. You can get a similar effect from espresso diluted in hot water, which is a popular European drink called (fittingly) the "Americano".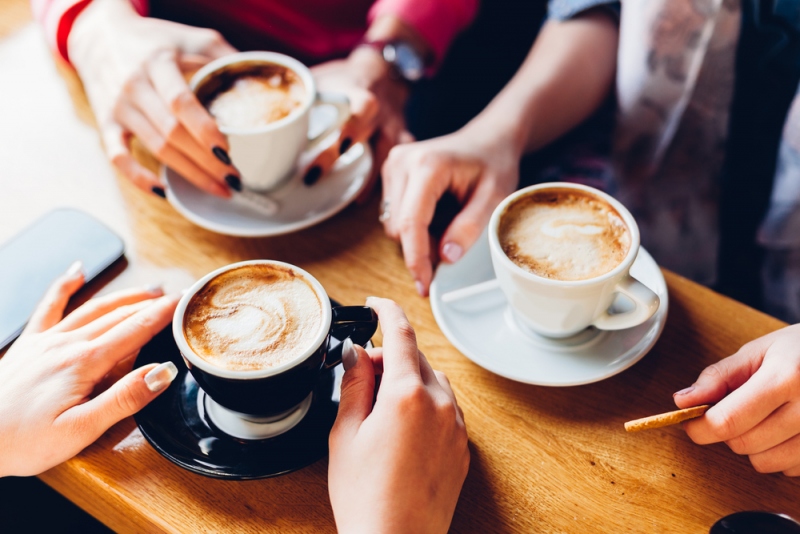 Going beyond the coffee shop
Some types of fancy coffee are tough to brew at home, but most popular forms of the drink are easy enough to make. You can make an American-style coffee with a typical coffee maker, and you can find coffee makers in grocery stores and home goods stores. You should consider brewing your own coffee. Doing so will give you an appreciation for the subtleties that go into a good coffee, and brewing your own cup lets you decide how strong or weak your coffee should be.
Start with two tablespoons of ground coffee for every six ounces of water when brewing at home, and adjust as you discover your own tastes. You may soon find that you can eyeball things and not bother with exact measurements. Brewing at home also allows you to experiment with different methods. Why not try using a French press? It's a great way to prepare an appropriate amount of coffee, and its "bloom" gives the coffee a richer, stronger taste. Other options include espresso makers and pour-over coffee.
Then there are, of course, the beans. You can start by buying familiar, pre-ground brands — your favorite coffee shop may have some for sale — but don't stop there. Try different styles and roasts, and get fresher coffee by grinding your own beans.
Learning even more about coffee
You've learned the basics here, and perhaps some of them you already knew. But there's so much more to discover about coffee. To learn more, head to your local library or go online. There are resources galore, including books, blogs, and message boards dedicated to coffee.
And why not sign up for a coffee subscription box? Such a delivery service will ship fresh coffee to your door regularly, making it easy for you to try new types of coffee and experiment with different beans and methods.
If you truly love coffee, don't let that love end at the exit of your local coffee shop. Take it home with you, and make coffee a way of life.