Everyone has that one blank wall at home that they have always wanted to do something with but could not come up with an idea that is both perfect and affordable. Hanging framed family pictures can be nice, but it does not give you that wow factor that you are looking for and it can hardly be considered creative.
One way to make an impressive focal point and to fill that sizable empty space is to have a large artwork. However, oversized pieces are often expensive and might not be the most suitable in complementing the theme of your room. Here are some ideas by expert designers which could help you elevate that big blank white wall without putting a big dent in your wallet.
Install floor to ceiling wainscoting 
Wainscoting is a wall treatment that typically uses panels to cover the lower parts of walls. It is usually used to add aesthetic values while providing protection and insulation to the structural walls. However, you can easily utilize this great wall treatment to make a feature wall by installing a full height floor to ceiling wainscoting.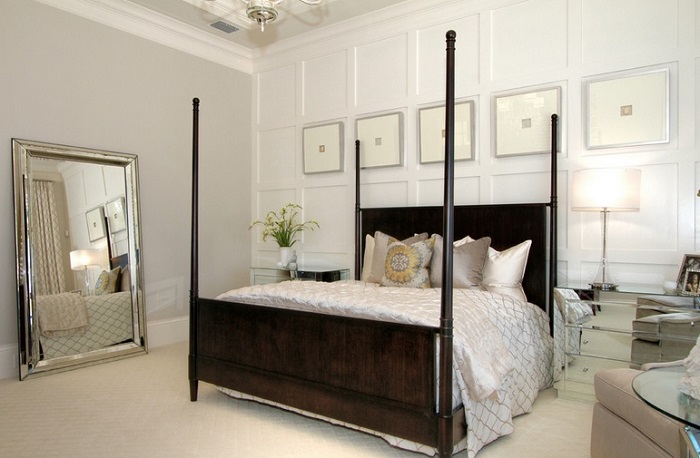 Alex Mouldings offered variety of wainscoting styles that you can consider for a contemporary look. A full height wainscoting feature wall can add structural interest to an otherwise plain looking room. On top of looking amazing, wainscoting is also easy to install and can be done in almost no time at all.
Putting small pieces of artwork together to make a large decoration 
One of the easiest ways to decorate a wall is by hanging small pieces of art items as if they were one big piece or a series of artwork. You can be very versatile with this solution by hanging two medium pieces side by side, in a row of 3, a grid of 4, 6, or 8 pieces. The important thing is to make sure that the spaces between each of the artworks are consistent, or you could end up with a cluttered look instead. You can cut up a large print, frame them individually then hang them up. You can also frame different letters and hang them together to form a word. Just let your imagination fly!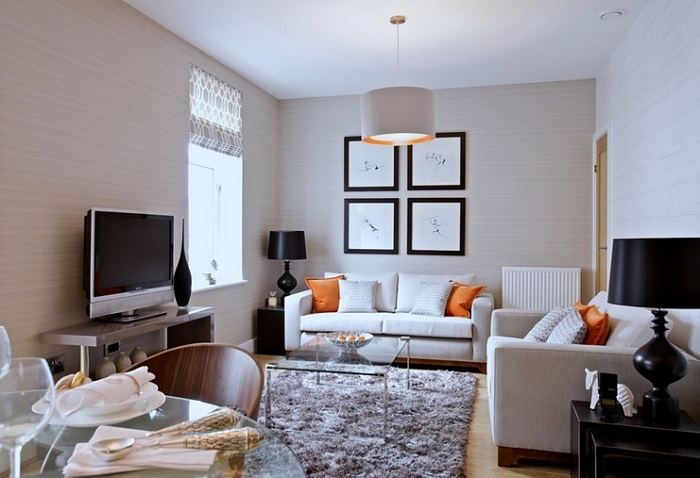 Make good use of recycled items 
If you are looking to jazz up your wall by adding something exciting and funky without spending a fortune, then this trick might just be the solution you are looking for. Instead of throwing away used wallpapers, magazines, newspapers, books, cards, fabric or even odd items, you can cut them up and put them inside cheap or recycled frames to create unique and distinctive art pieces. By framing them, the recycled items will look expensive and chic. Do not be afraid to play with bold contrasting colors to create drama and fun.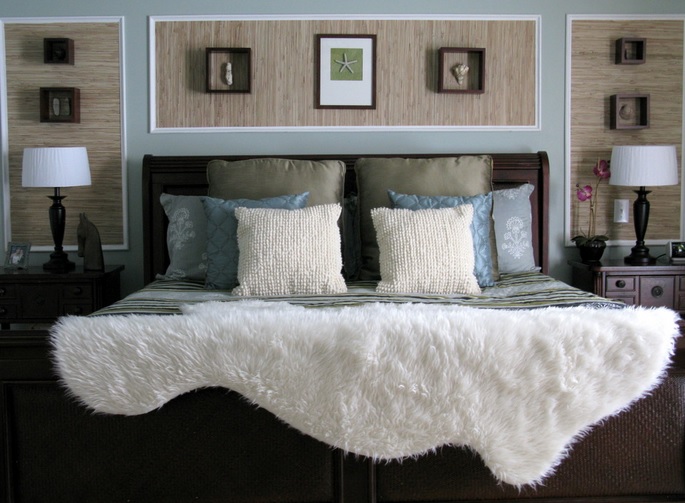 If you have a large wall to fill, simply make a grid with small frames. In case you cannot find enough interesting materials at home, you can head to recycle centers and second-hand shops to find old rolls or cutoffs. Anything colorful will look exceptional and this is a great way to let your personality shine through!
Show off your cutleries on your wall
Displaying kitchen cutleries on walls is actually a rather old idea but it can add a modern and contemporary touch to your room. Beautiful china tea sets or plates and trays can be further enhanced by using a display light. The varied shapes of these cutleries will visually break up natural straight lines in the room, creating an interesting look. There are clever hanging devices and clips that you can buy to put them on the wall, or simply hang them on a hook so you can easily lift the cutleries off the wall when you want to use them!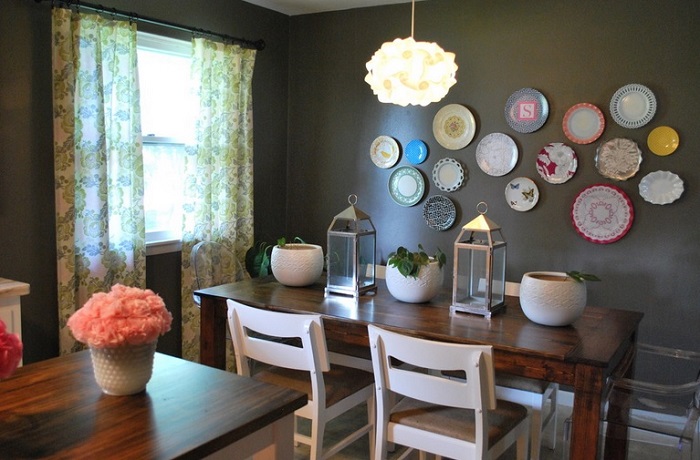 By using your creativity, filling up a large empty wall does not have to be daunting nor use up a lot of time and money. There are many great and affordable solutions available. You just need to let your artistic juices flow!